Ready to take your volunteer program to the next level?
Every nonprofit can benefit from a sustainable, robust volunteer community.
AmeriCorps Volunteer Infrastructure Project (VIP) focuses on building and strengthening volunteer infrastructure, including devising systems for recruiting, training, and recognizing volunteers. Our partner sites enjoy all the benefits of program participation and the full-time service of a dedicated AmeriCorps member.
"My biggest takeaway is how important the AmeriCorps program is for organizations that otherwise would not be able to make these investments in their infrastructure and capacity, and how important it is for members who gain a better understanding of their own strengths and goals through service."
VIP Supervisor, 2017-18 Service Term
VIP Program Goals
Build the agency's volunteer capacity by providing capacity building services in the areas of volunteer recruitment and management, enabling partners to increase volunteer capacity.
Recruit and retain agency volunteers by recruiting and generating an average of 120 volunteers per Partner Site (generally 80 one-time & 40 long-term, however, sites will create goals appropriate for the agency). Each Partner Site will set their own volunteer recruitment goal to meet agency needs.
Increase resources for the agency's volunteer program by raising $2,000 in cash or in-kind donations through the establishment of at least 2 business partnerships for every partner site. Donations must directly benefit the volunteer program.
Develop the professional skills of all AmeriCorps members through training and real-life work experience, so that they improve overall on performance evaluations by at least 20%.
Host Site Eligibility
Be a nonprofit (501(c)3) or educational organization (eg, a school)
Provide opportunities for AmeriCorps members to perform service that promotes the growth and support of a volunteer program that utilizes "skills-based volunteers" (SBV), allowing the organization to better meet the needs of their clients
Must not use members to displace any paid employee providing similar services, or to displace any current volunteers providing similar services
Services offered by partner sites must be offered without regards to a client's age, religion, disability, political affiliation, veteran status, gender, sexual orientation, gender identity, race, ethnicity, or national origin
Host Site Responsibilities
Program Mission Alignment: The express purpose of the VIP program is to support the partner site in building an effective volunteer program within agencies that improves the lives of the community's children and families.
Program Cost: Partner sites must provide the program cost of $20,000 to support the AmeriCorps member's living stipend, health benefits, training, and coaching.
AmeriCorps Member Support: Most AmeriCorps members have previous leadership and service experience but will spend their year "learning the ropes" volunteer management. Many have not previously worked in the nonprofit field. These individuals perform best with mentorship from the host site.
Impact tracking: The AmeriCorps VIP program receives public funds, and we strive to demonstrate transparency and accountability in all we do to honor the public tax funds that support our work. Partner sites provide CalSERVES with important, on-the-ground reporting on program impacts.
Service Year Timeline
January – May: Host Site Application open
July 1st: All Host Sites will be notified of selection status
September: Service term begins
July 31st: Service term ends
Moving Forward Together
These services are provided with the help of our local and national partners.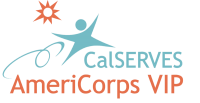 AmeriCorps VIP is a National Service program of the Napa County Office of Education administered in partnership with California Volunteers and the federal office of AmeriCorps