BEHAVIORAL HEALTH COMMITTEE
About the Committee
The Behavioral Health Committee, founded by Linda Janon in 1997, supports Jewish Family Service of San Diego in its efforts to provide behavioral health services that foster self-sufficiency and community engagement for individuals and their families through education and outreach. The Committee holds events during the year that inform and promote awareness on subject matters relating to behavioral health issues.
Chairs: Lisa Goldberg, Dr. Rachel Milstein Goldenhar
Members: Mona Angel, Bonnie Baron, Kira Finkenberg, Carla Fox, Meg Goldstein, Claire Grezemkovsky, Gloria Harris, Linda Janon, Cecile Jordan, Barbara Kent, Debbie Kramer, Mimi Lee, Dana Levin, Alyssa Mass, Dr. Jenny Meiselman, Marie Raftery, Lori Shearer, Devorah Shore, Fern Siegel, Karen Foster Silberman
Committee Structure and Responsibilities
The Behavioral Health Committee will have two components chaired or co-chaired by the same person(s):  a) a Leadership Committee of no more than eight members that advises, assists and supports JFS in identifying and implementing behavioral health programs and events; and b) an Advisory Committee composed of a larger group of members that advises and assists the Leadership Committee.
The Behavioral Health Leadership Committee will meet four times a year to plan for upcoming BHC Advisory Committee meetings and as needed to engage in long-term planning.
The Behavioral Health Advisory committee will meet quarterly to provide advisory input to and receive updates from the Leadership Committee and JFS.
The BHC currently has two task forces, comprised of BHC Advisory Committee members and at least one member of the Leadership Committee to assist JFS with the annual Luncheon and Panel/Resource Events. Each task force is chaired by a member of the BHC and works with JFS in support of the event.
Other ad-hoc subcommittees or task forces may be formed and will meet as needed for matters requiring additional study, recommendation or action.
With JFS in the lead role, the BHC will convene a community engagement event that is aligned with the JFS Strategic Plan, dedicated to mental health resource awareness building, community education and stigma reduction; and partnered with the Jewish and secular communities.
With JFS in the lead role, the BHC will hold a fundraising and social engagement luncheon with a speaker that highlights a mental health/behavioral health issue and connects people to JFS services.
The Behavioral Health Committee works to open up the discussion around mental illness and behavioral health through a series of events and educational panels featuring a variety of powerful and impactful speakers.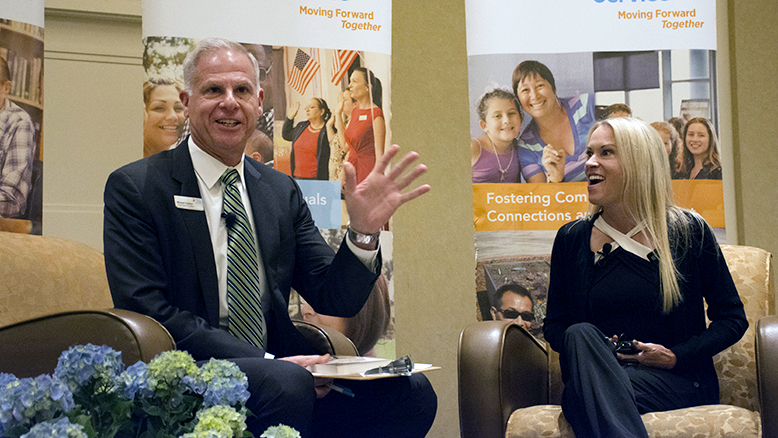 Past speakers have included:
Kevin Hines, brain health advocate and author of Cracked, Not Broken: Surviving and Thriving After a Suicide Attempt
Judy Batalion, author of White Walls: A Memoir About Motherhood, Daughterhood, and the Mess In Between
Suzy Favor Hamilton, author of Fast Girl: A Life Spent Running from Madness
William Cope Moyers, author of Broken: My Story of Addiction and Redemption
Pete Earley, author of Crazy: A Father's Search Through America's Mental Health Madness
Margaret Trudeau, author of Changing My Mind
Lauren Manning, 9/11 survivor and author of Unmeasured Strength
Jeff Bell, author of Rewind, Replay, Repeat
Liza Long, author of the blog post "I Am Adam Lanza's Mother"
Cinda and Linea Johnson, authors of Perfect Chaos