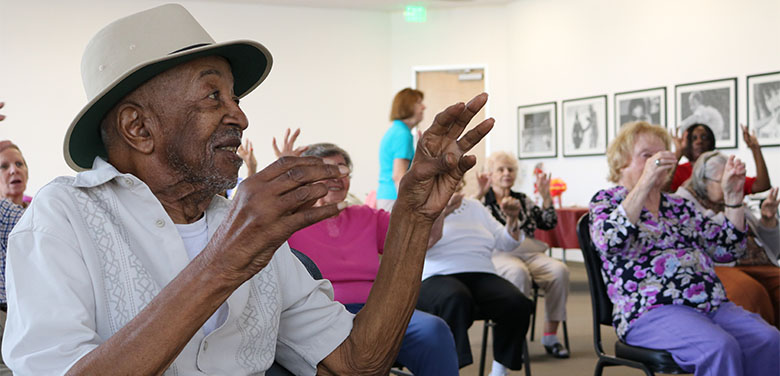 October 25, 2016
Jewish Family Service of San Diego (JFS) has been awarded more than $945,000 by the U.S. Department of Health and Human Services Administration for Community Living, as part of the Administration on Aging's Alzheimer's Disease Initiative: Specialized Supportive Services (ADI-SSS) program. The funds allow JFS to fill existing service gaps and enhance staff and volunteers' ability to provide thoughtful, skilled care for the unique needs of individuals and families impacted by Alzheimer's disease and related disorders (ADRD) in San Diego County.
"More than 60,000 residents throughout the county are affected by Alzheimer's and other dementias," said JFS CEO Michael Hopkins. "This award gives us a huge opportunity to bridge the gaps in current care and support individuals and caregivers living with these illnesses that are unique and ever-changing. The funding also helps us develop an innovative referral model to reduce the time, energy and confusion that many face when seeking further assistance."
Over the next three years, JFS will use the funds, in partnership with Alzheimer's San Diego and other community based organizations, to enhance and expand existing programs for clients and caregivers experiencing ADRD. JFS will expand its full range of client-centered support through referrals, specialized staff and volunteer training, client education, and direct service. These programs provide support services to persons living with ADRD in the community and offer behavioral symptom management training and expert consultation to family caregivers. At the end of the project, JFS will evaluate the programs' effectiveness, document "lessons learned," and disseminate findings and resources to the community.
The award also includes $150,000 to expand current offerings of JFS's Balboa Avenue Older Adults Center, which focuses on serving individuals in the early stages of Alzheimer's and other dementias. The Center provides attendees with activities to encourage mind-body wellness, live entertainment, and kosher lunches. Notably, the funds will be used to open the Balboa Avenue Center for an additional day each week and implement a Music & Memories program for clients.
JFS is one of two local organizations and one of 11 and in the U.S. receiving a total of more than $10 million in grants from the Health & Human Services Administration for Community Living. The funded projects are designed to create more effective long-term support for people with ADRD and their caregivers by providing high-quality, person-centered services.
For more information about JFS and its aging and wellness services for older adults, visit www.jfssd.org/olderadults.
Contact:
Sandy Young / Ashley Weaver
J. Walcher Communications, (619) 295-7140