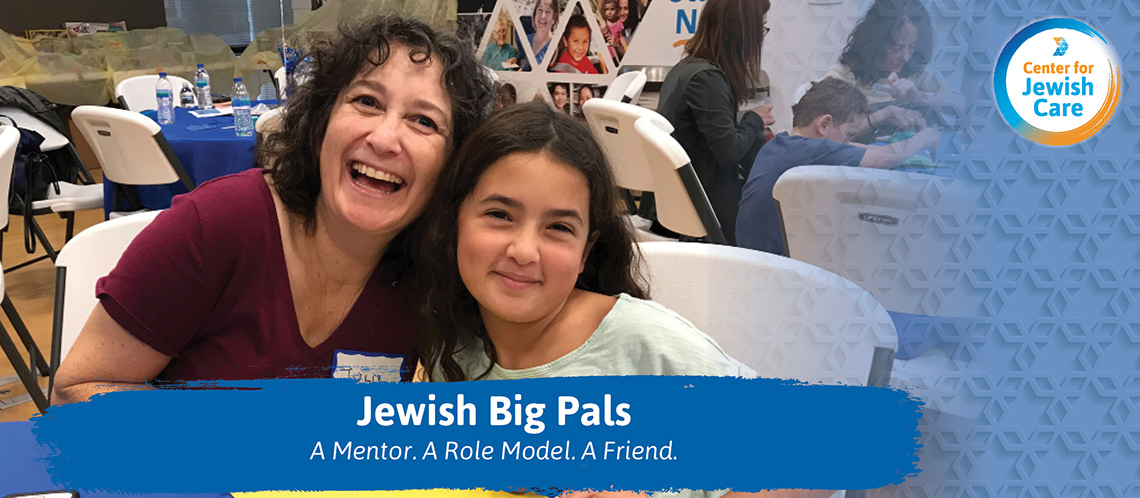 As a parent, you see your child's potential better than anyone.
Learn how a mentor can enhance their life.
Together the Center for Jewish Care at JFS and Big Brothers Big Sisters (BBBS) are partnering on a unique mentoring opportunity for Jewish Children, aged seven to sixteen, to get together two to four times a month to do what Littles find fun and interesting-whether arts and crafts or throwing a football at the beach.
Part role model, part friend, Bigs are there to support kids on life's more important journey — growing up.
What You Can Expect
Through the interview process, BBBS staff works to ensure that every match is a good fit for the participants.
A Collaborative Process
BBBS staff match Bigs and Littles based on a thorough screening process that takes into account availability, geography, family dynamics, and shared interests. Bigs are required to provide personal references and go through a rigorous background and security check. At sign-up, all participants commit to the program for a minimum of one year.
Ongoing Support
BBBS staff support matches with regular check-ins, trainings, and meetings. The Center for Jewish Care at JFS provides ongoing consultation and cultural competency training to BBBS staff, and continues to work within our Jewish community identify and refer potential Littles and Bigs. The Center for Jewish Care can also support Little Families and Bigs with any of their additional needs, from food to housing to transportation! Our team is here for you!
Lots of Fun
Matches meet two-four times per month for one-on-one outings. In addition to BBBS match events throughout the year for Bigs and Littles to get together, the Center for Jewish Care provides Jewish Holiday gatherings, group Padres tickets, and other opportunities to engage in Jewish holidays and culture.
Positive Outcomes
A Big is a safe, trusting role model that helps their Little build self-confidence, self-esteem, and healthy habits. Studies show that children with adult mentors are more confident, and are more likely to achieve their full potential. Program participants have found that involvement in BBBS had a positive impact on the family as a whole.
Take the Next Step
If your child is interested in becoming a Little, email us at [email protected]. We're here to answer your questions and help you get started.

"BigPals is an amazing program that is much more than donating a few hours of one's time to a kid in need. The program is a life-changer. It has changed both my Little Pal and my life for the better. We have become much more than just 'Pals'. We are like family."
Volunteer to Be A Big
You Can Make a Big Difference in a Child's Life
Childhood can be a time of many challenges. Bigs are caring Jewish adults who mentor children, aged 7 through 16, from non-traditional or single-parent families. Bigs engage their Littles in a mentoring relationship that can change their perspective on the world — and make a big impact on both their lives! If you are curious about becoming a mentor, give our Community Engagement team a call at  (858) 637-3264 or email [email protected].