JFS makes a difference in people's lives.
JFS was founded in 1918 by the "Jolly Sixteen"—a group of sixteen women who were committed to making a difference in people's lives." They united four Jewish women's groups—Hebrew Sisterhood, Jolly Sewing Circle, Junior Charity League, and the Ladies Hebrew Aid Society—and established Federated Jewish Charities.
They didn't have a staff of professional caseworkers, but they did have Rose Neumann—founder and first volunteer director. And they had drive. And a sense of purpose. They were our first rescue squad.
Early on, their efforts were dedicated to welcoming new immigrants—those who came from the other side of the country, and those who were seeking refuge in the United States for the first time. Needs were mostly short-term and specific—a place to sleep, a warm meal, a clean shirt for a job interview.
Over the next two decades, the agency's work was shaped by the global crises that defined the era – the Depression, World War II, and the Holocaust. Resettling Jewish refugees from war-torn Europe required considerable focus, energy, and funds.
The tremendous population growth during this period also led to the establishment of San Diego's first Jewish senior care facility. Agency volunteers visited the residents, arranged their medical and dental appointments, and transported residents to these and other appointments—services that JFS still provides for seniors across San Diego County today.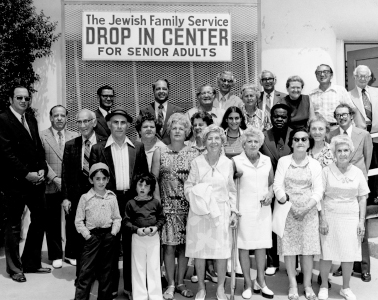 "You can see it in our past. You can feel it in our present. And you can count on it in our future."
"We have worked, stumbled, and despaired because the job just grew too big for us. We've recognized our own inadequacies and failings, and our inability to do a big job as it should be done. But now, we are hopeful. We are looking to the future of Jewish Social Service in San Diego with enthusiasm and vigor, and we know that in 1950, all of these yesterdays and todays, will become bright tomorrows."
In the postwar decades, under the direction of Henrietta H. Rubenstein, our focus shifted from meeting immediate needs to family strengthening and counseling. Beyond casework, we developed a range of services to address everyday challenges, including stress, relationships, financial security, and aging.
From 1979 through the early 1990s, under the direction of Maryanne Kaye and Jill Spitzer, JFS helped to resettle hundreds of Soviet Jewish refugees in San Diego. In partnership with the Hebrew International Aid Society (HIAS), the agency also broadened the scope of its resettlement work, extending the possibility of a new home, a new life, and a better future to persecuted people everywhere.
This period also marked the establishment of the agency's first drop-in center, providing seniors with access to healthy lunch as well as social, educational, and enrichment opportunities. Many other programs were developed to extend the agency's impact in strengthening families.
Today, JFS has grown into a premier human services agency in San Diego, touching the lives of more than 40,000 people a year. With a focus on uplifting individuals and families and supporting aging with dignity, we help people of all ages and faith backgrounds build stable, secure, and connected lives.
With more than a century of experience behind us, we remain committed to believing in people. At every age. And every stage of life. We're committed to meeting people where they are—and providing the compassionate services that have helped generations of people move forward.
Agency founded by the Jolly 16, a group of 16 women from four Jewish women's groups – Hebrew Sisterhood, Jolly Sewing Circle, Junior Charity League, and the Ladies Hebrew Aid Society.

Rose Neumann, founder and president from 1918 – 1946. Her spirit and determination led the agency for more than three decades as the agency's work was shaped by global crises – World War 1, the Great Depression, World War II, and the Holocaust.

Helped with Jewish immigrant relief efforts in Tijuana by providing food, housing, jobs, and medical care.

Many people needed help after making the long trip to California in search of a new life and greater opportunity.

First full-time social worker hired as the agency started to evolve into an organization with professional staff.

"Do you remember how comfortable you felt when you first arrived in San Diego reveling in its moderate climate as compared with the icy cold of 'back east'? Multiply that feeling a million times and you still won't know the glow of human warmth of a group of war-displaced persons who came to San Diego yesterday."
– Charles G. Hull, 1949

Henrietta Rubenstein serves as Executive Director. She led JFS to become professionally staffed and to become a nationally accredited organization – during this time JFS focused on the mental health needs of the community.

Changed name from Jewish Welfare Society to Jewish Social Service Agency. Help with housing, jobs and services for displaced persons after World War II.

Drop-in Center for Seniors opens at Beth Jacob Synagogue in North Park.

The Hand Up Food Pantry was created by Marsha Berkson in the new Turk Family Center.

Marsha explains the thought behind Hand Up, "I wanted to provide a hands-on learning experience for our next generation—one where they could make a meaningful impact and truly understand the value of Tikkun Olam, repairing the world."

Jill Spitzer transformed the agency as she served as Executive Director and CEO from 1986 to 2012.

"I feel privileged to have led JFS for 26 years, during which time we helped thousands of people lead happier and healthier lives. I was fortunate to work with an incredible group of professionals, thoughtful and involved Board members and volunteers, plus a generous and philanthropic community. Together, we moved JFS from a small counseling agency to a multi-faceted social service organization with a comprehensive array of programs and services."

Jill Spitzer

The agency with the community create a strategic plan identifying three mutually impact areas:
1) empower individuals and families to move toward self-sufficiency
2) to support aging with dignity,
3) to foster community connection and engagement.

To mark the agency's centennial, CEO Michael Hopkins remarked, "With each generation, we have adapted to new situations, challenges, and advancements. We've lived through periods of war, scarcity, and crisis. Our dedication to changing lives has never wavered."

Centennial Celebration Year includes Kick-Off event, Gala, and the announcement of $50,000,000 Centennial Countdown Campaign, which includes a $25,000,000 matching gift from the Rady Family Foundation. Our Next Century Starts Now!
1918
1918-1946
1922-1926
1926
1936
1946
1949
1951-1968
1952
1962
1973
2006
2014
2014
2018
2018