Raise your voice. End the stigma.
Breaking Down Barriers is an outreach program that works with communities of color and the LGBTQ+ community to talk about mental wellness. Through educational presentations and events, we discuss the stigma of mental health and connect participants to helpful resources. We also provide cultural competency/cultural humility training to community members who work with these populations. We want to normalize conversations about mental wellness so everyone can thrive.
This is strictly an educational program and we do not provide diagnoses or serve as licensed therapists.
What We Do
Every community has a different perspective on mental wellness. We're here to amplify your voice and add our expertise to the conversations already happening in our communities. Our educational workshops use a strengths-based approach to help you develop a positive relationship with your own mental health and support the wellness of your loved ones. Presentations are available in English, Spanish, and Arabic, and the workshop content can be adapted for youth, adults, and older adults/elders.
We can talk about:
Self-Care & Community Care: We will discuss self-care and community care practices that individual participants can engage in to support their own well-being. Workshops may also discuss topics related to anxiety and COVID-19, or reducing burnout.
Historical Trauma: We will review the concepts of historical and intergenerational trauma, and we will discuss how historical events (e.g. colonialism, slavery, war, segregation) impact BIPOC mental health and wellbeing. This training can be provided to community members to support them in understanding and articulating the ways that their families and/or communities have been impacted by historical trauma. The training can also be adapted for providers to help them understand the impact of past trauma on clients and communities.
Stress Management for Youth: We will highlight the different roots of stress faced by the youth in our communities and how it shows up in the body somatically. Youth will gain a deeper understanding of how stress and stigma impact their emotional needs and daily life, while exploring different stress reduction practices to incorporate.
Overview of Mental Health Stigmas: We will discuss the various mental health stigmas that exist in our communities and have in-depth conversations about cultural beliefs that may prevent us from talking about mental health. This conversation will allow us to navigate the challenges that exist when talking about mental health with our friends, family, and community.
Understanding Support Systems: The importance of having a strong support system to help us reduce stress is of extreme importance to maintaining your well-being and mental health. This conversation will help participants identify their existing support systems and how to make the best use of those supports.
How to be a Better LGBTQIA+ Ally: This workshop is intended for LGBTQIA+ allies and those who would like to strengthen their allyship. During this training, we will discuss some key terms, explore what the "coming out" process is like, and discuss how you can best support a friend or family member. We will also offer an interactive portion where you can practice speaking up about injustices and showing support to the LGBTQIA+ community.
Cultural Competency/ Cultural Humility: These trainings are for service providers who would like to learn best practices for working with community members who may identify as African American/Black; African/Refugee; Asian/Pacific Islander; Latino; LGBTQ+; Middle Eastern; and/or Native American/Indigenous. Breaking Down Barriers staff will lead a training (typically 1-2 hours) focused on 1-2 of the identified communities listed above. The training will include a brief history, cultural norms and practices, terminologies and definitions, data on mental health, and sensitive practices to be aware of when working with a particular community.
Mental Health and Supportive Services: Introduction to Anti-Racism and Anti-Oppression: This workshop is for service providers who would like to better understand how communities of color and the LGBTQ+ community face systemic issues that negatively impact their mental health and wellbeing. This training will help providers establish a foundation towards understanding and implementing anti-racism/anti-oppression practices, self-reflection, and personal critique as related to mental health.
Workshops can be adapted to fit your community or organizational needs.
How We Do It
Our Outreach Team collaborates with community organizations to develop and present workshops. We facilitate stigma reducing and interactive conversations to normalize mental health in a supportive environment, through a culturally relevant lens. No matter your current knowledge of mental health topics, our program is accessible for everyone and is tailored to reflect the values of our communities.

1 in 5
adults in the U.S. experience mental health issues in any given year*
*National Alliance on Mental Illness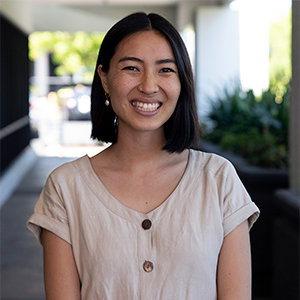 Gabriela Masuda
Gabriela Masuda (she/her/hers) is the Outreach Coordinator for the Asian/Pacific Islander Community. She is a multi-generational Japanese American with a background in mental health and working with at-risk youth. She is passionate about holistic mental wellness and creativity as a form of healing. Outside of work, Gabriela enjoys traveling, creative projects, and finding the best food spots in San Diego.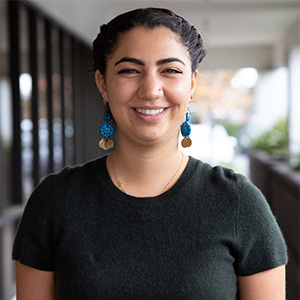 Lily Mojdehi
Lily Mojdehi (she/her/hers) is the Outreach Coordinator for the Middle Eastern/South West Asian Community. She is a daughter of two immigrants from Iran, and was born and raised in San Diego. She has a background in crisis counseling and youth engagement. Outside of work, she enjoys dancing, being in nature, and volunteering throughout San Diego County.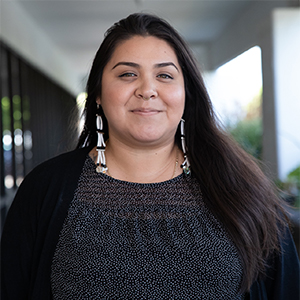 Marcia Hunter
Marcia Hunter (she/her/hers) is the Outreach Coordinator for the Native American/Indigenous Community. She is an enrolled member of the Mandan, Hidatsa, Arikara Nation, but was born and raised in San Diego. She has a background in community engagement and mental health. Her hobbies are learning and reclaiming indigenous activities like beading and sewing with her daughter and visiting national parks.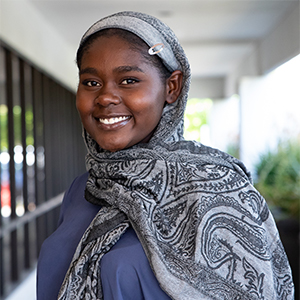 Noun Abdelaziz
Noun Abdelaziz (she/her/hers) is the Outreach Coordinator for the African/Refugee Community. Noun is a first-generation Sudanese youth, and a daughter of two immigrants from Sudan. Noun has a background in public health advocacy, health nutrition research, and basic mental health aid. Outside of work, Noun gardens with her mother, goes to school full time studying Sociology, and spends time with her community.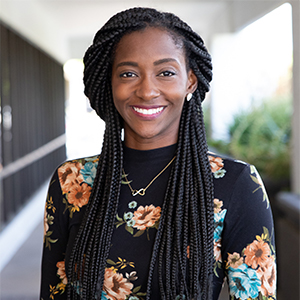 Spshelle Rutledge
Spshelle Rutledge (she/her/hers) is the Outreach Coordinator for the African American/Black Community. She is a Marine Corps veteran who  specializes in mental health and public health. Outside of work, Spshelle enjoys time with loved ones and volunteering.
Vanessa Pineda
Vanessa Pineda (she/her/hers) is the Outreach Manager and the Outreach Coordinator for the LGBTQ + Community. She is a multi-generational Latinx Queer with a background in mental health and vocational rehabilitation. When not at work, she enjoys arranging flowers, tending to her house plants, and baking.
Moving Forward Together
A program of Jewish Family Service, funded by the County of San Diego, Health and Human Services Agency.