How will you leave your mark on your community?
AmeriCorps VIP is a purpose-driven service opportunity designed to empower VIP Fellows through experience, training, and service. Fellows focus on building and strengthening volunteer infrastructure, recruitment and recognition of volunteers, and creating community partnerships. Each VIP Fellow dedicates their service to a single Partner Site, working "behind the scenes" to enable volunteers to take part in meaningful service positions that meet community needs.
"My service with AmeriCorps has positively impacted my life! I feel I have challenged myself, grown professionally, and became more compassionate towards seniors and senior issues. I have gained more knowledge of senior hardships and feel I am directly making an impact in the senior community."
VIP Fellow, 2017-18 Service Term
The Commitment
Service terms constitute an 11-month, full-time commitment (1700 total hours), beginning in September each year. AmeriCorps is not a job, it is a national service opportunity. VIP Fellows receive a modest living stipend, health insurance, have access to subsidized child care, and are eligible for student loan deferments. AmeriCorps State members that successfully complete a 1,700 hour 2021-2022 service term will be eligible to receive a $6,345 Segal AmeriCorps Education Award and $3,655 California For All Education Award. Housing is not provided.
The Perks
VIP Fellows bring a diverse amount of experience and skills to their placement organizations. In addition, Fellows will complete a Volunteer Management Certificate through Points of Light, the world's largest organization dedicated to volunteer service. Other development opportunities include working in a professional setting, understanding the nonprofit sector, personal and professional networking, and more.
Service Year Timeline
This schedule occurs each year.
April – August: Fellow Application is open, interviews, placement of VIP Fellows
August: All Fellows are confirmed for enrollment
September: Service Term begins
July: Service term ends
Open AmeriCorps Positions
Position Title: Part-Time Member, 900 Hr.
Service Term: 2021-2022
Reports to: Program Manager and Coordinators/Partner Site Supervisor
VIP Members build volunteer capacity at existing nonprofits, government agencies and schools (Partner Sites) that serve children, youth, and families. They do this through: 1) building sustainable systems to track, support, manage, and train virtual or in person volunteers; 2) recruiting one-time and skills-based volunteers; and 3) raising funds to support the development of the volunteer program.
Moving Forward Together
These services are provided with the help of our local and national partners.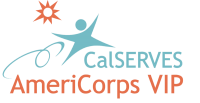 Administered by CaliforniaVolunteers and sponsored by the Corporation for National and Community Service