Bringing a Taste of Home to San Diego Seniors
To leave your homeland in search of a better life is to embark on a challenging journey marked by anxiety, sacrifice, and hard work.
Refugees and immigrants must lean on communities of friends and strangers, and seek help from local organizations with resources specifically designed to assist New Americans.
After the long road to their new homes, refugees often express profound gratitude to those who helped along the way, but few have a chance to become directly involved in the day-to-day work of these organizations. Irina Kryuchkova is an exception.
In 1979, Irina, her husband, and her three-year-old son fled Odessa, Ukraine, with hopes of ending up in the United States.
After months of travel through Austria and Italy, piles of paperwork, stress, and international coordination with family members already in America, Irina, and her family arrived in San Diego.
"At the time, JFS was much smaller than what it is today, serving just a handful of families," Irina said.
"When we arrived at the airport, JFS was there to greet us. They helped find us a place to live, they put furniture together, and they took us to the social security office. They gave us money each month. When I needed a doctor, they took me to the doctor. When my son was younger, we realized he had a learning disability, so they paid for him to be brought to a specialist."
The transition was difficult at times, but eventually, Irina and her family settled into the rhythm of life in San Diego and began reaching for new goals. At the time, a government program paid immigrants to go to school to learn English, so Irina took classes at Grossmont College until she was confident enough in her language skills to enter the workforce.
Over the next several years, Irina leveraged those language skills and her natural talent in the kitchen to become an expert at nourishing people. She took a job as a dietary aide with Hebrew Home, working her way up to Assistant to the Dietary Coordinator. Then, when a partner agency went bankrupt, Irina was tapped to take over their food distribution work at a new site. The rich experience she gained there gave her even greater confidence in running food assistance programs, and, in 2002, Irina's journey with JFS came full circle when she joined the nutrition team.
Thirteen years later, as the JFS Nutrition Manager, Irina manages a major culinary operation from the Loonin Family Kitchen in Jewish Family Service's Joan & Irwin Jacobs Campus.
"I sample the food every day." She says. "I make the menu, I buy for the kitchen. I'm really passionate because they're using my recipes. It's like being at home. Nothing fancy, just real, tasty Jewish cooking, like your mother would cook."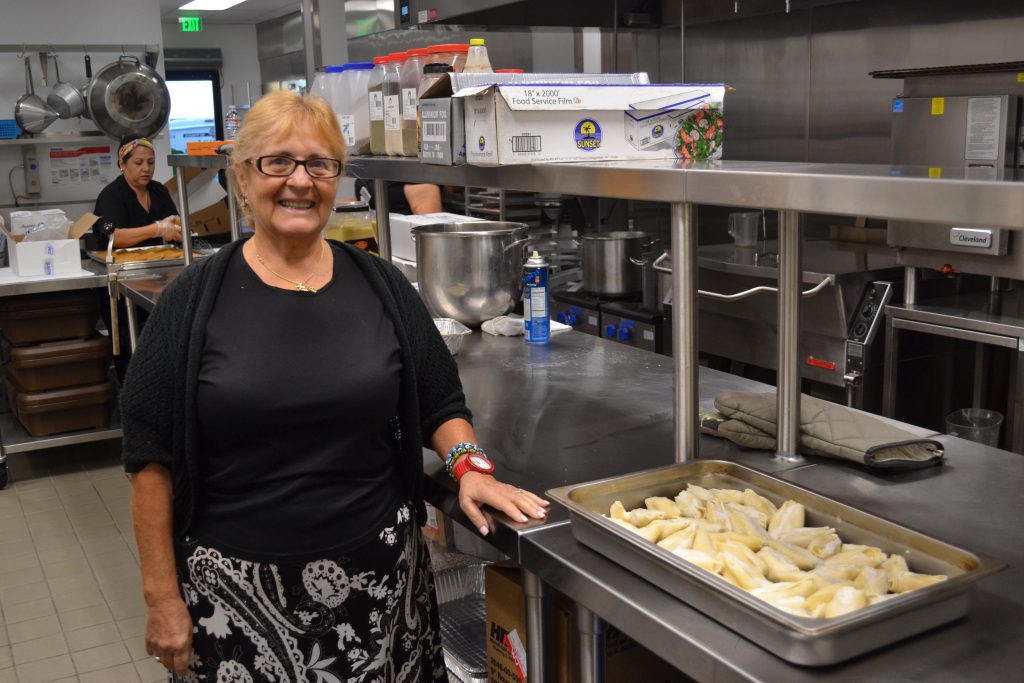 Irina and her staff prepare more than 300 healthy meals every day in the new Loonin Family Kitchen at JFS.
She and her tight-knit staff cook 300 meals every day. And thanks to the coordinated efforts of staff and volunteers, they are hand-delivered to older adults who have difficulty leaving home, and they are served in our Social & Wellness Centers for seniors. Participants rave about the food and spend lunchtime telling stories and catching up with friends.
Irina hopes the services provided by her kitchen expand in the near future because she understands first-hand how these important these services can be. And with her insider's view, she can see both how much JFS accomplishes, and how much potential still exists.
"If I didn't work at JFS, I would have never known that we have so many programs, particularly ones that help seniors. I see how many lives we touch," Irina said.
"I see [older] people that would just stay alone, but instead they have a chance to get transportation, come into the Center, and socialize. It's really been amazing to see how the organization has grown to embrace these people."
Senior Nutrition Services at JFS prepares 83,000 meals annually for seniors and younger adults with disabilities across San Diego. To learn more about Foodmobile, JFS's kosher, home-delivered meal service, visit www.jfssd.org/Foodmobile
Sam Shapiro is a marketing intern and blog contributor at Jewish Family Service. He's a proud member of the local Jewish community and a member of the Jewish fraternity, Alpha Epsilon Pi, at UCSD.