Eliminating Food Waste in San Diego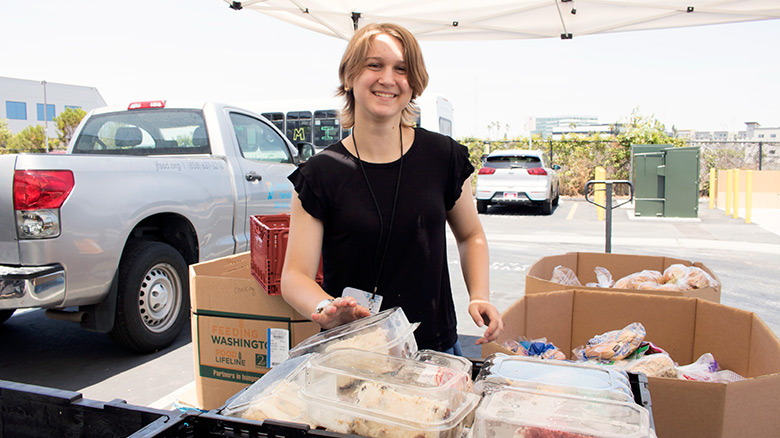 From a single lemon tree grew a community-wide initiative to eliminate food waste in San Diego. Meet the industrious high schooler behind the gleaning project at JFS.
At 14 years old, Aurora joined Hand Up Teen Leadership at JFS. In the three years since, she's learned the many ins and outs of operating a food pantry, traveled to Sacramento to advocate for smarter food policies and started a local gleaning program to add more fruits and vegetables to our food distributions and Corner Market. Here, we get to the core of her inspiration for giving back.
"It was my second year as a Teen Leader," remembers Aurora.
"We were volunteering at the Murphy Canyon food distribution, which serves a lot of military families with young children. A little boy came up to me and asked if I had an apple. He looked like he was maybe six, and I was so impressed that he was asking for something healthy. Unfortunately, we didn't have any produce that day. I felt terrible that I couldn't just hand him an apple."
From that interaction grew Aurora's determination to get fresh produce into the hands of families who need it. Finding ways to eliminate food waste within her immediate community has been a big part of the effort. Starting with the lemon tree in her own front yard, Aurora went door to door collecting the excess fruits and vegetables that grew around her neighborhood. She sent out texts asking her friends to do the same.
At the height of the gleaning season, Aurora delivered nearly 500 pounds of rescued produce to Hand Up – everything from oranges to pomegranates. She is inspired by the growing number of people contributing fresh foods
"People in the community are realizing that they can donate items from their own backyards and that they actually make a difference."
Retail partners like Target, Starbucks, Whole Foods, and Vons are also getting in on the food rescue game – adding a whole new dimension to Hand Up's food offerings. "It's a big step up from the canned items that you often see in food pantries," says Aurora. "Canned food is good, but fresh food is often healthier and can also be stored and distributed."
Aurora loves seeing how the greater variety of donations empowers people to make healthy choices.
"At the Corner Market, nobody is told what they can or cannot take. Instead, we put healthy options on the table and trust people to take what they need. Since the produce costs nothing, people are choosing more of it, and eating a better diet."
Now a Senior with Hand Up, Aurora has enjoyed the opportunity to address food insecurity on multiple fronts. For the past three years, she and her fellow teens have traveled to Sacramento to advocate on behalf of low-income families and others who are vulnerable to hunger. While she describes her first trip to the Capitol as "terrifying," she notes that the experience of participating in Hunger Action Day has helped her grow more confident in advocating for things she feels strongly about. Most recently, she helped support a bill that would make CalFresh available on college campuses.
"There are a lot of students choosing to pay tuition and buy their books, while skipping meals and not having enough food to eat. We want to change that."
With college on the horizon, Aurora is setting her sights on a science major like biology, chemistry, or engineering. A nature lover, she hopes to contribute to strengthening the environment – believing that healthy food demands a healthy planet.
Her message to the future teens of Hand Up?
"Hunger and food insecurity are not going to disappear overnight. But gradually, if enough people start donating and running food drives, it's going make a difference. Together, we can change the flow so that people have the food they need to sustain themselves and their families."
With the help from Teen Leaders like Aurora, the Hand Up Food Pantry provides dignified food assistance to more than 900 San Diego households every month. Learn more at www.jfssd.org/handup.