How a Holocaust Survivor Found Her Voice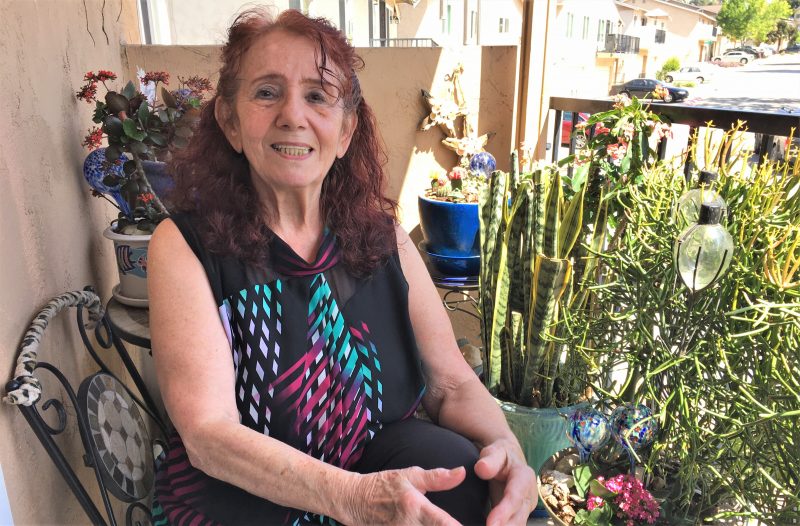 As Holocaust Survivors grow older and pass away, their stories of tragedy and hope are more precious than ever. Hedy Dalin, Director of Care Management at JFS, founded the Life Lessons Project to preserve the voices of this rapidly disappearing generation. The two-year project documents the lives and collective wisdom of 44 Survivors living in San Diego. Not only does it explore each Survivor's experience of the Holocaust, but Life Lessons also places a unique emphasis on who the Survivors have become since the war.
"I wanted our clients to be able to look at their past through a strengths-based perspective," Hedy said. "My hope is that they can appreciate who they are now as a result of what they've been through, instead of solely focusing on the hardships they've endured."
For the project, Aging Care Specialists from our Serving Older Survivors (SOS) program meet one-on-one with vulnerable, isolated Survivors to create an auto-biographical essay about their memories, experiences, and life advice. Once all the interviews are complete, a Life Lessons book will be published to educate future generations about the Holocaust.
Ursula – a Survivor involved in the project – says it's helped her find her voice.
"I never wanted to talk about anything after the war. It's nice to come out and talk about my feelings now. I said to myself, 'okay it's time to speak up.' It's important to tell my story because I don't want it to get lost. It happened. It's history. You cannot forget that."
Ursula was born in Germany and escaped with her mother to Brussels, Belgium, when the Nazis began their persecution of the Jewish community. The two of them lived in a small attic for several years.
"We were like Anne Frank," she explained. "I couldn't open a window because we were afraid someone would see us. In 1942, there was knock on the door in the middle of the night. The Germans had found our hiding place. They separated me from my mom. They took her and put her on an army truck to Auschwitz, but they didn't take me. I wound up in many different orphanages, 8 or 10 of them. It was really tough."
When Ursula turned 18, she traveled to Israel and worked in a kibbutz after the war. She later married an American soldier and moved to a rural town in Oregon. Even though the Nazis had robbed her of a proper education, she found work, learned to drive, and raised her two children after her husband passed away. Eventually, Ursula moved to San Diego, where she now enjoys retirement by volunteering at the library and knitting scarves to sell for charity.
Once a year, she shares her story with students at the San Diego Jewish Academy. At first, Ursula was nervous to speak in front of the kids; now, she looks forward to it. Being part of the Life Lessons Project has strengthened her passion for educating younger generations about the Holocaust.
"I tell them, don't be a perpetrator, don't be a victim, and don't be a bystander. You have to have tolerance."
Ursula has also found a community of other Survivors to connect with. Apart from publishing the Life Lessons book, a secondary goal of the project is to gather isolated Survivors for group conversations.
"I'm meeting with a 95-year-old woman who refuses to speak anything but German," Ursula laughed. "She's lonely and needs someone to talk to. I can take the time to help someone in need. I understand what she's been through."
For many Survivors like Ursula, the Life Lessons Project comes after many years of support from the SOS program.
"JFS is there whenever I need them," she told us. "It's nice to wake up in the morning knowing there's somebody who can help."
The best part? Hedy Dalin fully intends for the Life Lessons Project to touch the lives of hundreds more Survivors. Once the book is finished, it can be replicated outside of San Diego – and with other populations who have experienced trauma, such as refugees.
When asked about the importance of Life Lessons, Hedy summed it up nicely:
"I want this project to honor Survivors and show future generations how they were an integral part of the tapestry of Jewish life in San Diego."
The Life Lessons Project is made possible by generous funding from The Jewish Federations of North America. Once the book is published, it will be available to view online via the Jewish Federation of San Diego.