JFS is Helping Older Adults Thrive
March 23, 2023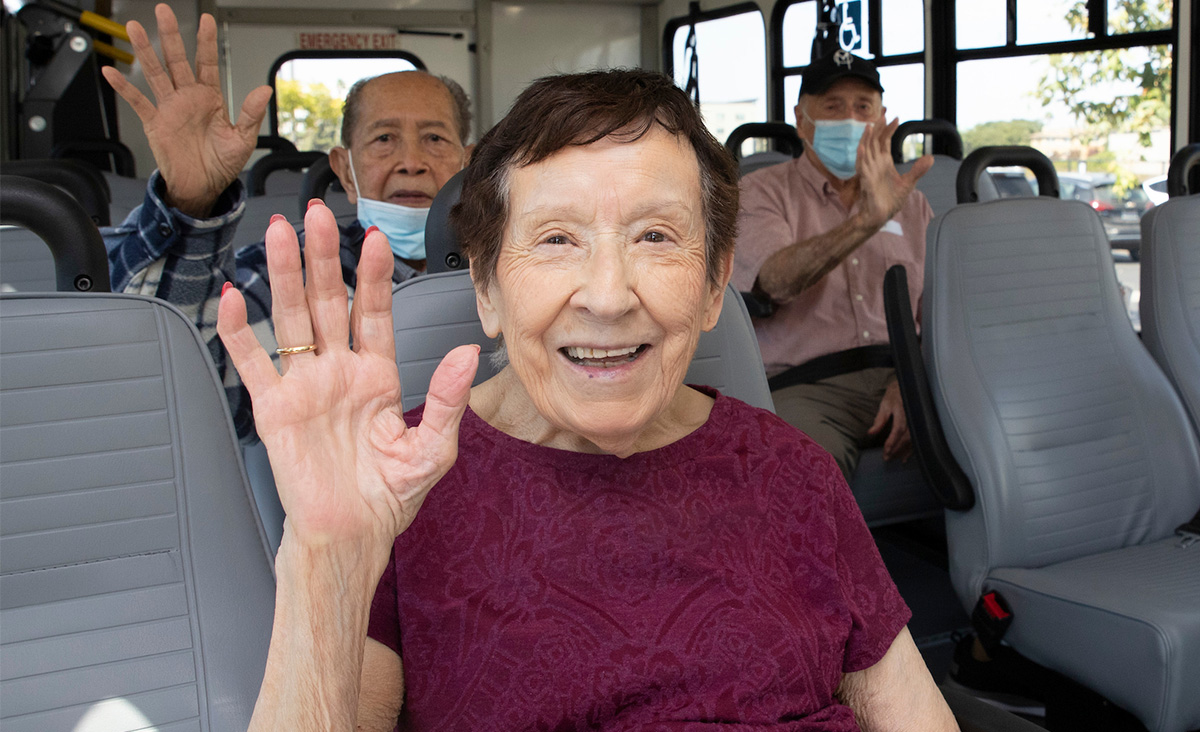 Dependable Rides. Healthy Meals. Social Engagement. Supportive Services.
As we age, many of us will face new challenges that impact our health, our mobility, and our happiness. Jewish Family Service is dedicated to helping older adults stay healthy, active, and independent by meeting people where they are with supportive services that allow them to age comfortably in their homes.
According to Kristine Stensberg, JFS Senior Director of Nutrition and Aging Services, "What makes JFS different is our hub of aging care services that work in tandem together to wraparound each individual's unique needs, so they can stabilize and move forward."
Read on to learn about some of the ways we're addressing the challenges of aging and making it easier for older adults in our community to age with dignity.
HELPING ADULTS THRIVE: DEPENDABLE RIDES
Challenge: Nearly 20% of older adults do not have access to transportation.
How We Help: Dependable rides.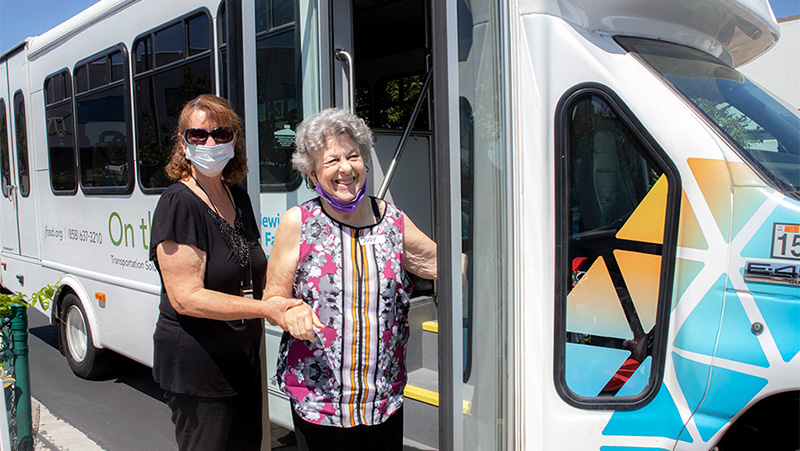 Without access to transportation, many older adults become physically and socially isolated. They might avoid going to much-needed doctor appointments, trips to the store when they really need groceries, and/or rarely going out to be with their friends and social groups. On the Go provides safe and reliable transportation, expands access to resources like the Corner Market at JFS and JFS social and wellness centers, and keeps older adults connected to the people and places they love the most.
"On the Go saved my life by taking my husband to his daily medical appointments in Encinitas and bringing him home. It has been a tremendous boost to his mental health and takes such a weight off of me."
– Libby
Monthly, group trips to special destinations are offered through On the Go Excursions. These social outings provide an opportunity to see friends and attend events they wouldn't be able to otherwise. For many older adults, On the Go, is the key to their maintaining their independence and quality of life.
Our thanks to SANDAG and CARS for helping to fuel this vital service in our community. We are honored to provide safe, dependable transportation, and peace of mind for older adults across 45 zip codes in San Diego County. Learn more about On the Go at www.jfssd.org/OnTheGo.
HELPING ADULTS THRIVE: HEALTHY MEALS
Challenge: As many as 30% of adults over age 65 face increased risks of heart disease, type 2 diabetes, and cancer.
How We Help: Healthy meals.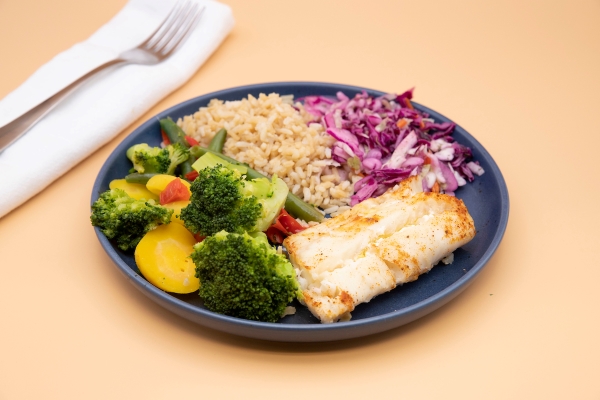 Having access to nutritious food is essential to ensuring good health across the lifespan and preventing future illnesses. JFS provides dignified nutrition assistance for adults aged 60+ by offering an array of services including home-delivered Foodmobile meals, congregate dining, community food distributions, and the Corner Market at JFS, which also has the option of online ordering with convenient curbside pick-up. By providing a variety of ways to access nutrition support services, we make it easy for older adults to work around their preferences and schedule. With the help of our registered dietician, Alana Olson, we're also providing educational guidance regarding which foods are best for them based on their unique health needs.
"One of my main priorities as the dietitian at JFS is to ensure that all the meals we provide to older adults are nutritious, delicious, and well-balanced. Because nutrition is critical to the prevention and management of many chronic illnesses, we offer a menu of medically supportive meals catered towards clients with high blood pressure, diabetes, heart disease, or individuals just looking for more nutritious options."
– Alana Olson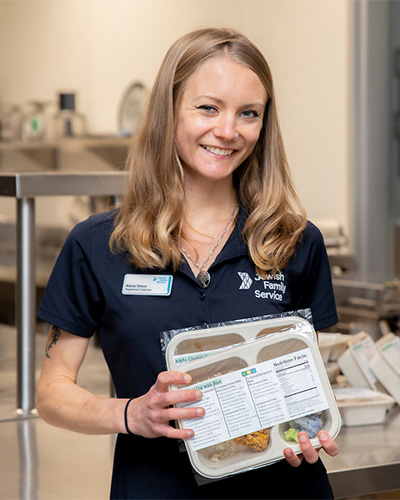 Before the pandemic, we were making around 200 meals every day in the Loonin Family Kitchen. Today, it's nearly 1,500 meals a day. To better accommodate this increased need for nutrition assistance and streamline our process, we partnered with UCSD's Lean Six Sigma students to evaluate our process, improve performance, develop smart business operations, and achieve greater productivity. We're dedicated to keeping the health of our community at the forefront of innovation.
As inflation continues to affect the price of healthy food, and emergency pandemic benefits end, we remain committed to keeping older adults in our community nutrition-secure. Learn more at www.jfssd.org/Nutrition.
HELPING ADULTS THRIVE: SOCIAL ENGAGEMENT
Challenge: According to AARP, nearly 1 in 5 Americans over age 65 are socially isolated. Social isolation has been linked to higher blood pressure, greater susceptibility to the flu and other infectious diseases, and earlier onset of dementia.
How We Help: Opportunities to learn, play, and engage with others.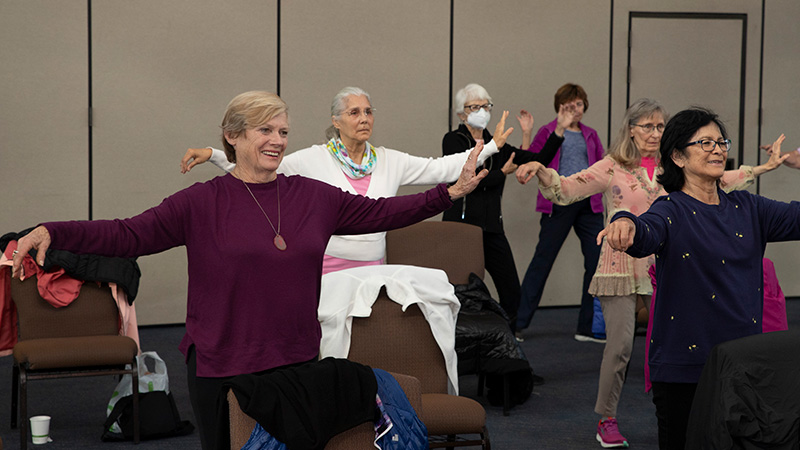 After being closed for three years during the pandemic, our community let us know how much they missed the opportunity to connect with friends and resources, and we listened. This winter, we were delighted to reopen the College Avenue Center, a social and wellness center for adults over age 60.
As a hub for older adults in our community, on any given day you can expect a stimulating mix of classes like tai chi, laughter yoga, and music appreciation; discussion groups on current events and thought-provoking trivia; and workshops like meal planning, the tech hour, and more! And just like at our other center, the Balboa Avenue Center, which offers Alzheimer's and dementia-friendly programming, lunchtime is when new and old friends enjoy the company of each other. By offering opportunities to learn, play, and engage with others, older adults in our community can keep their minds sharp and have fun doing it.
Our thanks to Temple Emanu-El for generously sharing their space with us during the week, and to San Diego Community College Continuing Education for providing weekly educational opportunities. To learn more about the College Avenue Center, visit www.jfssd.org/CAC.
HELPING ADULTS THRIVE: SUPPORTIVE SERVICES
Challenge: Adults are living longer—well past retirement age and often without a partner.
How We Help: Providing supportive services that promote safe and independent living.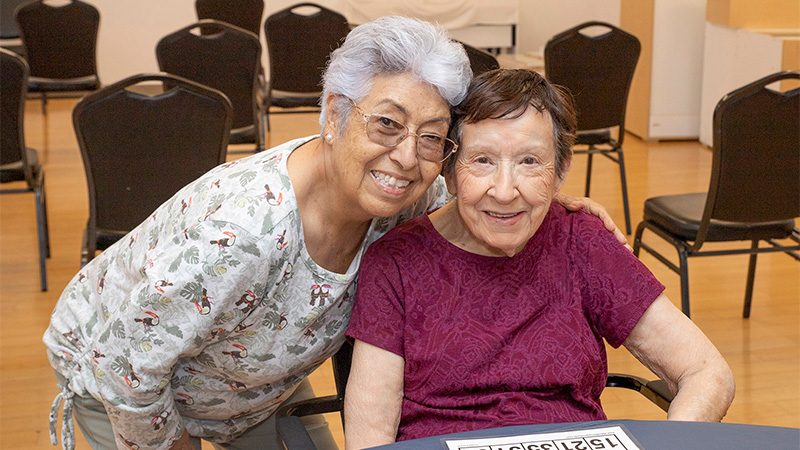 Often, the first step to moving forward is creating a custom plan to empower an individual and family to reach their care goals. JFS Aging Care Services offers an array of in-home support to help keep older adults in the comfort of their own homes and to often help family members feel confident about the care and safety of their loved ones. Part of insuring safety is removing potential hazards and concerns. The JFS Fix-It Service starts with a safety check to identify problem areas and then provides safety modifications and minor home repairs to improve the mobility and security of older adults in their homes.
"Thank you so much for the new fire alarms and safety equipment for our mom's bathroom. We are so appreciative of this service."
– Chris & Kim
"You made life-changing fixes in my house. I wouldn't be able to stay here without them."
– Valerie
JFS Fix-It services are funded in part by generous donors and a grant from the County of San Diego's Aging & Independent Services. Take our home safety assessment to see if you or someone you care about could benefit from our Fix-It Safety Checklist.
"No matter what challenges an older adult may be facing, JFS is here to provide critical assistance,  compassionate care, and help navigating community resources so they can age with dignity in their golden years."
– Kristine Stensberg
JFS Senior Director of Nutrition and Aging Services
As a trusted source of support for more than a century, JFS is dedicated to creating a stronger and healthier community where older adults can thrive. Learn more about our resources and supportive services available to adults over age 60 at www.jfssd.org/olderadults.