Life Lessons from Holocaust Survivors
April 23, 2021
At Jewish Family Service of San Diego, we share a deep commitment and responsibility to take care of our community's Holocaust Survivors. For decades, JFS's Serving Our Survivors (SOS) program has offered critical services to support the emotional, financial, and physical health of low-income and vulnerable Survivors. The complex challenges of aging are often magnified for Survivors dealing with trauma and loss. JFS is committed to helping Survivors lead safe, independent lives so they can age with dignity.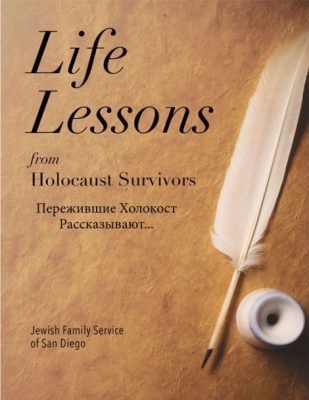 In 2019-2020 Jewish Family Service's Geriatric Care Management Staff conducted interviews with 44 Holocaust Survivors in the San Diego region. Through a Person-Centered and Trauma-Informed approach (PCTI), the goal of the project was not to delve into their Holocaust trauma, but rather to ask, "what have you learned so far from life that you would like to share with others?" Life Lessons is a compilation of those interviews and features intimate stories, photos, and words of advice. The publication of their responses is an affirmation that their experiences will live on to inform and inspire others.
Read their stories now:
Life Lessons was partially funded by a generous grant from the Jewish Federation of North America. To learn more about the important work that supports our community of Holocaust Survivors in San Diego, visit Jewish Federation of San Diego.
In March 2021, copies of the finished book were distributed to Survivors on Yom HaShoah, Holocaust Remembrance Day. Life Lessons honors the legacies of our community's Survivors and is part of our work to ensure that as a community, We Never Forget.