Partnering to Stop the Spiral of Homelessness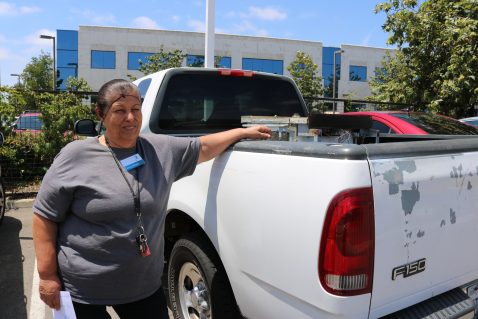 In October of 2016, the non-profit Dreams for Change approached JFS about using our parking lot to operate a safe parking program for homeless families and individuals sleeping in their cars at night. We agreed, and immediately began looking for ways to deepen the partnership. We provided food from our Corner Market, access to our kitchen and shower facilities, and services focused on employment and stability. For Angie Porras, that partnership has been life changing. 
A native San Diegan, Angie attended City College and worked in quality control at General Dynamics. She had a second career as a private caregiver, where her clients included the mother of a prominent San Diego Superior Court Judge.  When Angie retired, she had an apartment and her social security. But as the costs of living in San Diego went up over time, her modest social security checks were no longer enough to cover her basic expenses.
"That's the thing about social security: The costs go up, and the social security stays the same. I've thought about moving to Tucson, but I've lived in San Diego all my life, so about two years ago, I decided, 'Ok, I got to go back to work.'"
Hoping to return to work as a caregiver, Angie went on several interviews, but the jobs always fell through. She lacked the professional certifications now required by the state of California—and didn't have the money to obtain them.
Unable to pay her rent or find more affordable housing, Angie put her belongings in a storage unit and set up bedding in the cab of her truck. At the age of 67, Angie was homeless. The next several months were a demoralizing cycle of disappointing job interviews, long waiting lines for public benefits, and endless shifting as she searched for a safe place to park her truck at night.
When a friend told Angie about the Safe Parking Program at JFS, she drove here right away.  After nearly two years of uncertainty, she finally had a reliable place to park her vehicle, enjoy a meal with other families, and settle in for a safe night's sleep.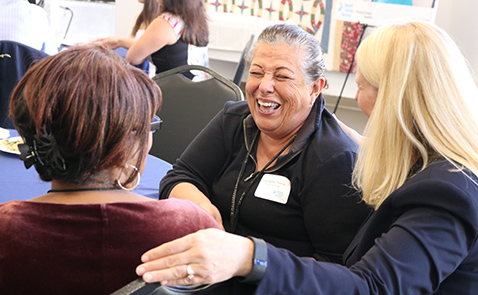 After a few months in the program, Angie began working with a JFS Employment Specialist, who helped her secure the funding to pursue the certifications required to work as a caregiver in California. To boost her resume, Angie also began working a few hours each week at our Balboa Avenue Older Adult Center.  In June, Angie accepted a fulltime position with a respected caregiving agency here in San Diego and is now saving toward a security deposit on permanent housing.  With coordinated support from JFS and Dreams for Change, things are finally turning around.
"There are a lot of us seniors who are struggling. It's beautiful to know that there's a place for us to turn to."
In October 2017, Mayor Kevin Faulconer announced new City funding to support the expansion of the Safe Parking Program at JFS. The additional funds have doubled the capacity of the program, allowing for 80 additional parking spots spread between the Joan & Irwin Jacobs Campus on Balboa Avenue and a satellite location on Aero Drive in Kearny Mesa. As part of the expansion, families now have the support of two dedicated Housing Specialists to help them navigate the incredibly complex pathway form homelessness to permanent housing. The positions are made possible with generous support from MG Properties Group and the City of San Diego.