The Impact of Volunteers: Turning Compassion into Action
September 28, 2023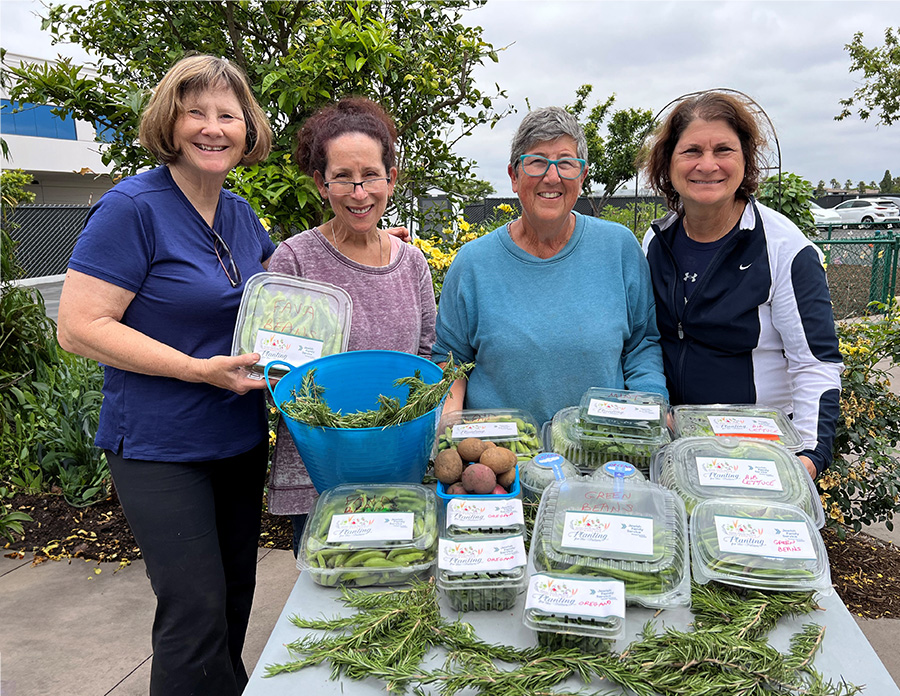 This year, Jewish Family Service provided critical assistance and compassionate care to more than 90,000 people across San Diego, Orange, and Riverside Counties. Day in and day out, we simply could not do the work we do without a dedicated and passionate team of volunteers. Their impact goes far beyond their service. Read on to find out how our volunteers are making an impact in the community and why we call them "The Heart of JFS".
The Impact of Volunteers
Since 1918, JFS has worked alongside community members to help meet the evolving needs of our diverse community. Over the years, volunteers have proven to be an essential component in expanding our reach and serving more people. For instance, when the pandemic ushered in a widespread need for critical assistance, JFS was able to extend program hours and pivot services to accommodate a greater number of people thanks to the frontline support we received from volunteers.
Every day, volunteers work alongside our staff in nearly every corner of JFS.
According to Sunni Robertson, JFS Director of Volunteer Engagement, "In addition to their helping hands and their willing heart, volunteers also bring their compassion and warmth. They are not showing up for a paycheck, they are volunteering because they genuinely believe in our mission to create a stronger and healthier community and have a passion for helping people." Welcoming shoppers to The Corner Market at JFS; playing with a toddler while a parent makes travel arrangements; delivering meals and care packages to isolated older adults; escorting asylum seekers to the airport; and more.
Many of our more involved volunteers develop friendships with the people they meet who look forward to their deliveries and visits every week. While some volunteer because of their belief in Tikkun Olam (repairing the world), others volunteer because they are looking for a meaningful way to give back. It's a powerful experience to know you've helped change someone's life for the better. And when volunteers have a great experience, they share that opportunity with others—proving to be our best recruiters. A one-time volunteer shift can often turn into a long-term volunteer commitment with friends. The collective impact of JFS volunteers can be felt throughout the agency and extends far beyond the dollars they save.
Measuring Volunteer Impact

July 2022 – June 2023
Hours Volunteered: 42,445
Value Added: $1.58 million
Turning Compassion into Action
With hundreds of dedicated volunteers working at multiple sites, we've chosen just a few of our many all-stars to introduce. Meet a few of our longtime volunteers who are passionate about volunteering with JFS:
Meet Rowena
JFS Refugee Resettlement Friendly Match Volunteer
As a former refugee from Germany, Rowena knows first-hand how challenging moving to a new country can be. In 2009, she was looking for opportunities to give back while going to school at SDSU and had a strong desire to help refugees like herself acclimate to living in a new country, learn a new language and culture, and start a new life.
"Volunteering for JFS has been an eye-opening and rewarding experience and one of the best things I've done in my life. I'll never forget when I found out that a family I supported for many years named their baby after me. I was so incredibly honored and humbled. At that very moment, I realized how impactful volunteering can be."
Meet Edwin
Hand Up Food Pantry Warehouse and Corner Market Volunteer
After battling cancer, Edwin felt inspired to give back and now volunteers at JFS up to three times a week.
"I spent many years in my career building relationships with coworkers and customers, and I missed doing that after I retired. I love working in the Corner Market because I get to help people. My favorite part about volunteering is working alongside fellow volunteers who have become close friends."
Meet Shelly
The Corner Market Volunteer and Center for Jewish Care Volunteer Driver
Shelly has been involved with JFS since the 1980s when she first started collecting cans of food for our annual High Holy Days Food Drive. After retiring in 2022, Shelly started volunteering with JFS in a greater capacity. Her favorite part of volunteering is seeing the smiles on seniors' faces when she's delivering holiday care packages or helping out at the Corner Market.
"I enjoy volunteering at JFS because the staff and fellow volunteers demonstrate a commitment to Tikkun Olam (repairing the world). I encourage everyone I know to volunteer at JFS if they want to make a real difference in our community."
Meet Donna & David
Safe Parking Program Volunteers
Donna and David have been volunteering with JFS since 2017—first stocking shelves at the Corner Market and now serving as Safe Parking dinner runners.
"We love giving back to our community here in San Diego as much as we can. Whenever we have free time available, it feels good to spend time helping others. There are so many ways you can get involved at JFS. We definitely recommend volunteering."
Onward, Volunteers!
This fall, we're overhauling our entire volunteer program to make it an even better experience for our volunteers.
More Opportunities! We've expanded our volunteer team to cultivate more opportunities to engage and connect across the agency.
Easy Process! We've streamlined our application process making it even easier to start making an impact in the community.
Connect as a community! We've added more stewardship events to increase volunteer connection and convey our heartfelt appreciation and gratitude.
"What makes volunteering at JFS so special is that you can see the direct impact every time you volunteer. And when your shift ends, you can feel good knowing you helped someone put food on the table, find a safe place to shelter for the night, or travel on to their loved ones."
– Sunni Robertson, Director of Volunteer Engagement
We know "A community is too heavy to carry alone." Thank goodness for volunteers!
Learn more about the impact our volunteers are making every day at www.jfssd.org/volunteer.
Questions about volunteering? Email us at [email protected].