The New JFS Program That's Changing How We Talk About Mental Health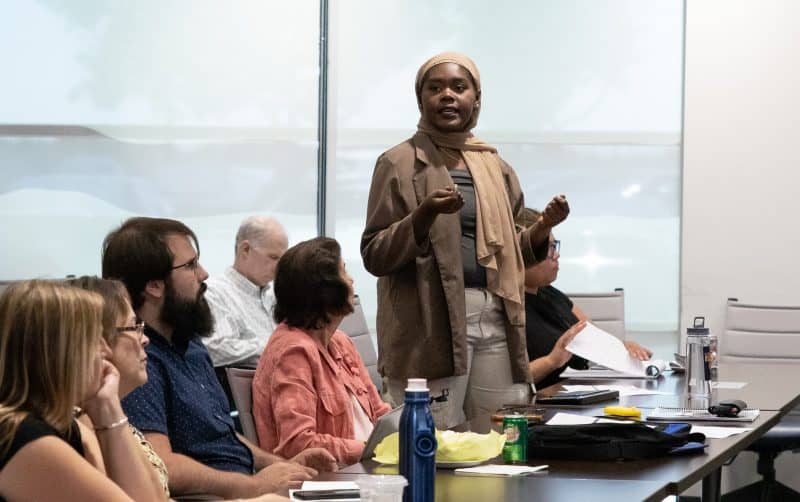 Hi there! I'm Noun, an Outreach Coordinator with the newest JFS program, Breaking Down Barriers. We're an early-prevention and outreach program that works with underserved communities to destigmatize conversations about mental health. While I engage with people from all different backgrounds, most of my work revolves around the African Refugee population in San Diego. The Breaking Down Barriers team represents the diversity of our city, and we strive to uplift and empower people who are often left out of mainstream mental health dialogues. With specialized coordinators for the LGBTQ, African American, Latinx, Native American, Asian Pacific Islander, and Middle Eastern communities, we promote positive conversations about mental wellness and provide culturally-relevant resources for everyone we work with.
Each Breaking Down Barriers outreach collaboration brings a different story, a new perspective, and an inspiring reminder of why it's so important to destigmatize mental health. This past week I hosted my first community presentation for older adults at an independent living facility. Mental health is often neglected in this population, even though the natural aging process increases the risk for social isolation, depression, and deteriorating self-care.
But getting older adults to talk freely about their struggles with mental health isn't the easiest task. Many older adults come from a generation or cultural background that doesn't recognize the importance of fostering good mental health in the same way that we understand it now. But just because they never had the chance to talk about it doesn't mean they've experienced fewer challenges.
During my presentation, I asked each person to write down all the negative words they associated with themselves or their mental health. After we talked about it as a group, they scribbled over the words until they weren't legible anymore. Some of the older adults even went so far as to crumple the papers, releasing the negativity they'd been carrying around inside themselves. The emotion in the room was tangible – they felt strong and resilient and renewed. Even this small introduction to talking about their own mental health seemed to lift a weight from their shoulders. It was a beautiful thing to watch.
Conversation in the room flowed freely after our initial activity. As soon as they realized everyone else had been dealing with similar problems, they found a community of support within each other. Breaking Down Barriers makes it a priority to flip the narrative that struggling with mental wellness makes you "crazy" or "weak." We begin to chip away at the trauma that comes with suppressing mental wellness by providing a safe space where everyone can be represented and heard.
After I wrapped up the presentation, one of the older adults bravely told me, "This program made me realize there's always help available and that there's solutions to the problems I've been having."
These experiences, these moments, and the growth I saw in the older adults at our first meeting makes me excited to see the future impact my team and I will bring to all the communities we talk to. It's incredibly rewarding to help people work through their mental health challenges without stigma or shame. Our goal is to promote healthy relationships with mental wellness and to normalize these conversations so everyone can live happy, secure, and stable lives. I'm humbled and honored to be working toward a world where mental health is treated as a priority instead of a taboo.
Want to learn more about our outreach events? Get in touch with Breaking Down Barriers! Our team organizes community events, group presentations, cultural sensitivity trainings, and many other opportunities to cultivate conversation. No matter your current knowledge of mental health topics, our program is accessible for everyone and is tailored to reflect the values of your unique community.
Breaking Down Barriers is funded by the County of San Diego Health and Human Services Agency.