Jewish Family Service COO Wins County Leadership Award
Dana Toppel Receives Debra Zanders-Willis Child Welfare Leadership Award From San Diego Health and Human Services Agency
March 17, 2023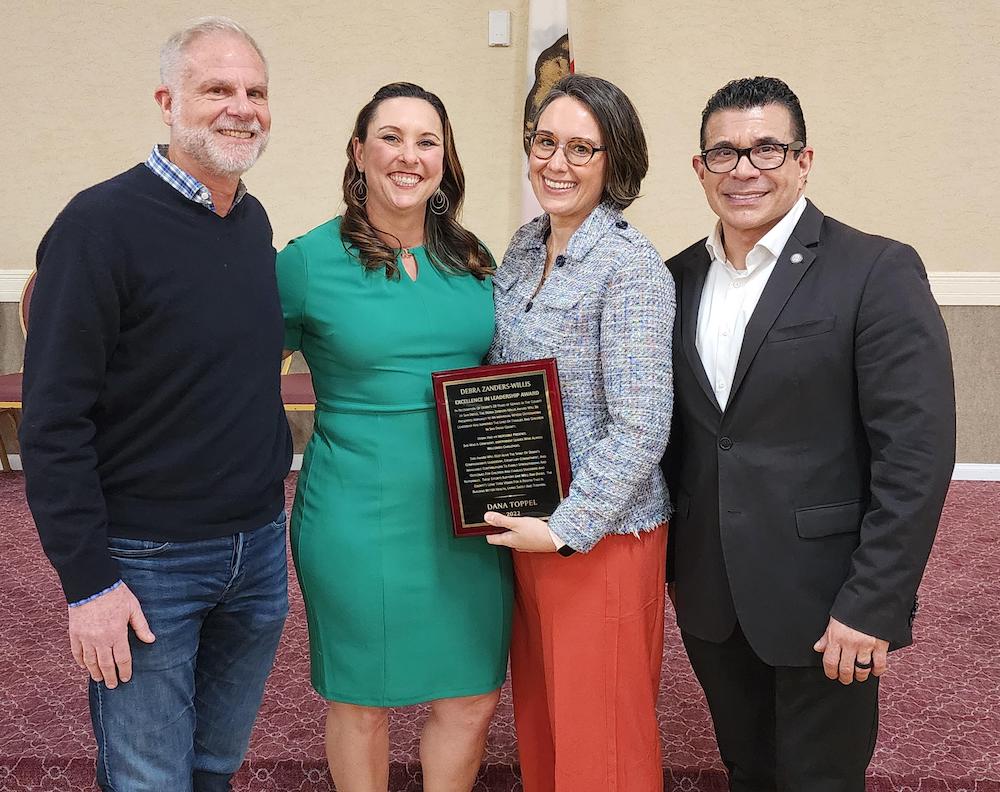 SAN DIEGO (March 17, 2023) – Jewish Family Service of San Diego's (JFS) Chief Operating Officer Dana Toppel has been named a recipient of the 6th Annual Debra Zanders-Willis Child Welfare Leadership Award from the County of San Diego Health and Human Services Agency. This award is given to a community partner or County employee who has shown exceptional leadership resulting in positive outcomes for children and families.
Overseeing one of San Diego's largest and most impactful nonprofit organizations serving more than 71,000 people of all ages and backgrounds each year, Toppel helps builds a stronger, healthier, more resilient and equitable San Diego.
"JFS provides essential resources to children and their families, older adults, immigrants and refugees, and more in part because of Dana's superb leadership and passion for creating a community where everyone has the opportunity to thrive," said JFS CEO Michael Hopkins. "She exemplifies our client-centered, impact-driven approach."
Toppel leads initiatives such as San Diego for Every Child, a county-wide effort to encourage public advocacy and discussion around child poverty. Working to cut the experience of childhood poverty in San Diego County in half by 2030 and ensure that every child in the region has their basic needs met, she helped launch and oversees this forward-thinking coalition, a nonprofit initiative housed under the auspices of JFS.
Toppel's areas of special interest include San Diego for Every Child's Guaranteed Income Project – a first in the region – which provides monthly cash payments to 150 families with at least one child under the age of 12 living in several zip codes in San Diego and National City. Because of the initial program's success,  JFS has been selected to launch additional guaranteed income programs focused on various populations. JFS's Family Support Liaison program and Safe Parenting Program (PPP) are also thriving due to Toppel's leadership.
She was also recently appointed to the City of San Diego's newly revived Commission on the Status of Women, addressing inequities San Diego women face in career, economic and vocational pursuits.
"Debra Zanders-Willis was a champion for a more just and equitable community," said Toppel. "JFS is proud to work alongside County leadership to continue to advance her vision for a community where our children and family thrive. I am honored to receive this award in her name."
Debra Zanders-Willis was a fierce child welfare advocate, who served as the director of Child Welfare Services for the County of San Diego Health and Human Services Agency. She went on to be COO for the YMCA of San Diego, responsible for programs that served victims of domestic violence and unhoused families.
Additional recipients of the 6th Annual Debra Zanders-Willis Child Welfare Leadership Award include Native American advocate Karan Kolb and Medical Director of the American Academy of Pediatrics, San Diego and Imperial Counties Chapter, Pradeep Giwani.
About Jewish Family Service of San Diego – Moving Forward Together
Founded in 1918, Jewish Family Service (JFS) is one of San Diego's most impactful nonprofit agencies – providing resources and support to over 71,000 people every year. Through integrated services, the organization empowers people of all ages, faiths, and backgrounds to overcome challenges, set goals, and build more stable, secure, and connected lives. JFS is committed to helping individuals and families move forward, while developing innovative strategies to break cycles of poverty and strengthen our San Diego community.
To get help, volunteer or support JFS, visit jfssd.org or call 858-637-3000.
###