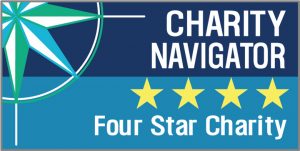 For the ninth consecutive year, Jewish Family Service of San Diego (JFS) has earned a 4-star rating from Charity Navigator, America's largest independent charity evaluator which highlights the work of efficient, ethical, and open charities.
Only one percent of nonprofits nationwide have achieved such high standards of sound fiscal management, accountability, and transparency year after year.
"This accomplishment," said Michael Hopkins, CEO of Jewish Family Service, "is a testament to our dedication to fulfilling our mission and responsibly managing our resources so we can help move clients along the continuum toward self-sufficiency. It addresses perhaps the greatest donor concern – that their investment is stewarded wisely and put to good use."
JFS's strong financial health and embrace of good governance and other best practices are key to its ongoing achievement of Charity Navigator's highest designation. This latest rating signals the agency's firm commitment to moving forward with the highest level of financial responsibility.
"Attaining a 4-star rating verifies that Jewish Family Service of San Diego exceeds industry standards, setting the agency apart from its peers and demonstrates to the public its trustworthiness," said Charity Navigator President and CEO Michael Thatcher.
In addition to the new Charity Navigator rating, JFS was also named "Nonprofit of the Year" for the 39th district by Sen. Marty Block, and was honored in June at the first inaugural California Nonprofits Day on in Sacramento at the State Capitol.
To learn more or get involved with Jewish Family Service of San Diego, visit www.jfssd.org.
Contact:
Sandy Young / Ashley Weaver
J. Walcher Communications, (619) 295-7140