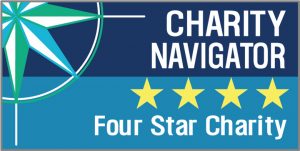 Every year in the last decade, Jewish Family Service of San Diego (JFS) has earned a 4-star rating from Charity Navigator, America's largest independent charity evaluator. The rating places the nonprofit among the top one percent of nonprofits nationwide for its high standards of sound fiscal management, accountability and transparency.
"JFS would like to thank our donors – their trust propels our success," said Michael Hopkins, CEO of Jewish Family Service. "We are committed to financial integrity and the fulfillment of our mission – moving families and individuals toward self-sufficiency. This top rating from Charity Navigator ensures to our donors, as well as our clients, the high value we put on stewarding the community's dollar."
Charity Navigator's ratings show donors how efficiently a charity will use their support, how well it has sustained its programs and services over time, and its level of commitment to accountability and transparency – giving donors greater confidence in both the charitable decisions that they make and the nonprofit sector.
"This 4-star rating is our highest possible rating," said Michael Thatcher, president and CEO of Charity Navigator, "indicating that an organization adheres to sector best practices and executes its mission in a financially efficient way. Year after year, Jewish Family Service continues to exceed industry standards and outperforms most charities in these areas."
To learn more or get involved with Jewish Family Service of San Diego, visit www.jfssd.org.
Contact:
Sandy Young / Ashley Weaver
J. Walcher Communications, (619) 295-7140