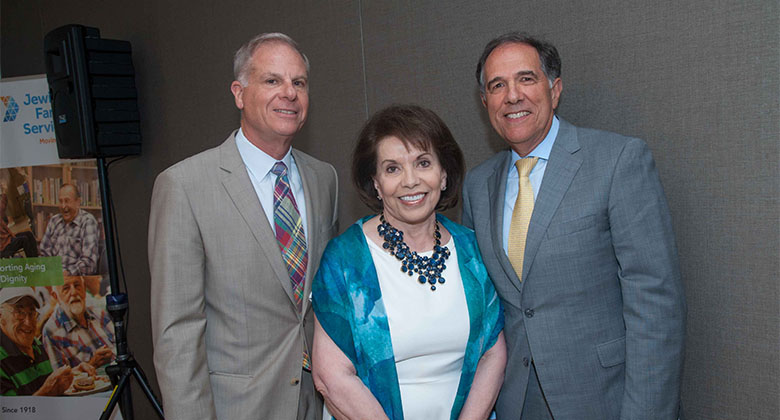 June 15, 2017
Jewish Family Service of San Diego (JFS) has named businesswoman and renowned philanthropist Marie Raftery as chair of the 99-year-old nonprofit's board of directors. The appointment was officially announced at JFS's Annual Meeting Luncheon on June 13, 2017. Raftery previously served as chair elect.
A Boston native, Raftery came to San Diego in 1980 as director of the UCLA Dental Clinic, before opening her own Dental Practice Management Corp. in 1987. She went on to open and manage 10 offices throughout San Diego County. All of the offices were eventually sold, except for one in South Bay that she continues to own and manage.
Raftery was introduced to JFS through a friend who invited her to attend the nonprofit's annual gala and has been passionate about the agency's work ever since.
"I saw how JFS served the whole community, from children and parents with its parenting programs and BigPals, all the way through to services for seniors with its nutrition and On the Go programs," said Raftery. "I knew from my dental offices that when you serve the entire family, you can stay connected and that's what JFS does."
Before joining the board in 2014, Raftery served as chair for the JFS Development Committee, as well as its "Friends of the Family" campaign. She and partner Dr. Robert Rubenstein also started the David Rubenstein Memorial Scholarship program at JFS in 2009, which annually grants between 15-20 scholarships of up to $2,500, encouraging students to treasure their Jewish heritage, reflect on their Jewish values, and better understand their connection to the community.
"In January, we begin our centennial year with an outstanding philanthropic opportunity to strengthen our financial base and sustain JFS long into the future. The agency's board, staff and supporters are proof that talent combined with passion, tenacity and decency can reinvent what's possible, just as our founders did 100 years ago. As we move forward, I want to make sure we never forget how deeply we believe in the work JFS does to improve lives and strengthen our community," said Raftery.
Raftery follows outgoing Board Chair Meg Goldstein who had served for two years.
In addition to Raftery, JFS also added three new members to the board:
• Sheldon Derezin, CPA, CFP began practicing as a CPA in San Diego in 1975, providing accounting, tax, and business consulting services to a variety of clients. From 2004 to 2011, Derezin served as chief financial officer of Waxie Enterprises. He has served on the boards of Bank of Commerce (acquired by US Bancorp), Temple Emanu-El, and the San Diego Hall of Champions. For the last seven years, he has served treasurer of the San Diego Food Bank.
• Gregg Kornfeld is a San Diego native who returned in 2008 after living for 23 years in the Bay Area. He has extensive knowledge in direct marketing and e-commerce, and has 25 years of experience in the promotional product industry, first as the CEO of his own company and then as a marketing and merchandizing executive at National Pen. Kornfeld has been on the CARS (Charitable Adult Rides & Services) board since 2010. He also recently joined the UCSD Hillel Advisory Council.
• Joel Smith is an attorney and business executive focused on the commercialization of new ventures in life sciences. He is currently the managing counsel of Qualcomm Life and was previously the general counsel and vice president of corporate development at Sientra, a surgical aesthetics company. Smith currently serves on two JFS committees: budget and finance, and strategic vision. He also recently joined the Board of Directors of Hillel of San Diego.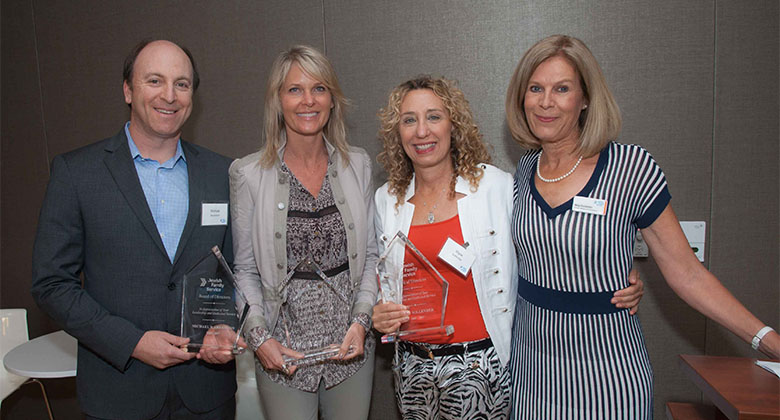 For a full list of Jewish Family Service of San Diego's Board of Directors, visit www.jfssd.org/about.
Contact:
Sandy Young / Ashley Weaver
J. Walcher Communications, (619) 295-7140