Mayor Faulconer Announces Safe Parking Program for Homeless Individuals & Families Living Out of Their Cars
October 16, 2017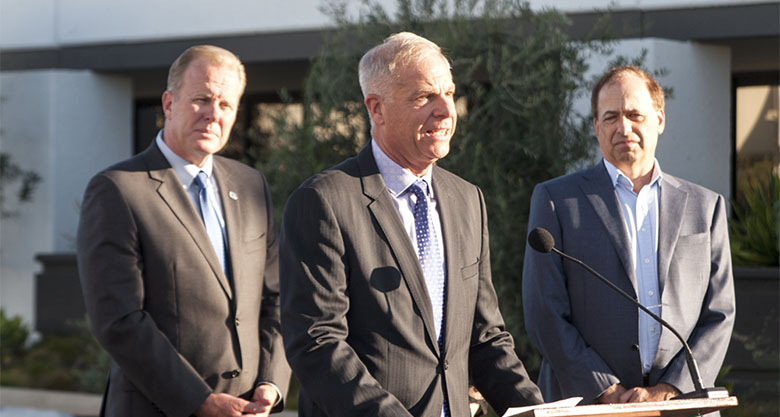 CITY OF SAN DIEGO PRESS RELEASE FOR IMMEDIATE RELEASE
Monday, October 16, 2017
CONTACT:
Greg Block at (619) 227-3752 or [email protected]
PROGRAM RUN BY NONPROFITS IS BEING EXPANDED TO ACCOMMODATE MORE VEHICLES, HUNDREDS MORE PEOPLE IN TWO LOCATIONS
San Diego – As another strategy to reduce homelessness in San Diego, Mayor Kevin L. Faulconer today announced a safe parking program that will allow individuals and families who are currently living out of their vehicles a safe and secure place to park at night, with case managers and a housing specialist to help them find permanent homes.
Mayor Faulconer was joined by City Councilmember Chris Cate and representatives from nonprofits Dreams for Change and Jewish Family Service of San Diego (JFS). Mayor Faulconer said the program includes the expansion of an existing safe parking lot and the opening of a satellite lot in District 6, which was recommended by Councilmember Cate. The expanded program will now offers 120 parking spaces to homeless individuals.
"Homelessness comes in many forms. Sometimes people are living on the streets, some are sleeping on a friend's couch and some live out of their cars," Mayor Faulconer said. "In many cases, these folks just need a place to go so they can focus on getting their lives back on track. These safe parking areas will provide a creative solution for people who just need a temporary reprieve from the streets."
The existing lot is operated by Dreams for Change at Jewish Family Service's Joan & Irwin Jacobs Campus on Balboa Avenue and provides a safe space for 40 vehicles, serving approximately 50 to 60 individuals nightly, with an emphasis on families. Thanks to support from the City and charitable donations through JFS, 20 new spaces will be added and, for the first time, people parking their vehicles will have access to housing navigators who will help them find permanent housing.
The second site, located at a city-owned parking lot near the intersection of Aero Drive and Murphy Canyon Road, will open next Monday, Oct. 23, with 60 parking spaces. Together, these two safe parking lots will serve more than 200 people each night.
"Homelessness looks different in each of our neighborhoods. In my district, homelessness is families sleeping in their car, or individuals residing in our canyons," said Councilmember Cate. "I believe District 6 needs to be part of the solution that helps provide services to those individuals and families most in need. It is crucial that these vulnerable individuals, particularly those who have, recently, become homeless be connected to services, entered into the Coordinated Entry System, and given the resources to assist them in finding permanent housing. I thank the Mayor for accepting my recommendation to have a Safe Parking Program in District 6. This is not only a downtown problem, but a regional issue that requires regional solutions."
Each parking zone is available for registered individuals to stay between the hours of 6 p.m. and 7 a.m. Dreams for Change provides case management and JFS provides food assistance, access to a bathroom and shower facility. In addition, JFS offers participants more comprehensive case management and services toward self-sufficiency.
Program participants must be working toward securing housing and are carefully screened to ensure it is a safe and welcoming environment for all.
"For the majority of the people in the Dreams for Change program, it is their first time being homeless. Most of them have some source of income and just need a little assistance to get themselves and their family back on their feet and into a home," said Dreams for Change CEO Teresa L. Smith, Ph.D. "With the help of the City and in partnership with Jewish Family Service, we're able to more than double our capacity of the Safe Parking Program – empowering and stabilizing the lives of San Diegans in need."
According to the Regional Task Force on the Homeless' 2017 Point-in-Time count, approximately 962 people, or 17 percent, of unsheltered people in San Diego reported staying in their vehicle. Many of them are couples or families with children.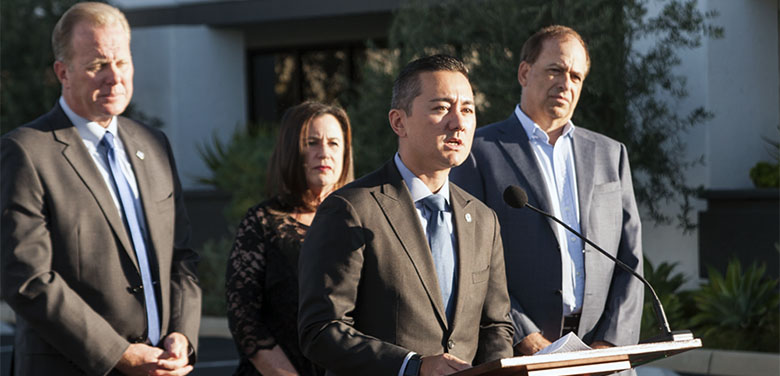 "This is a life-changing partnership between the City, Dreams for Change and Jewish Family Service," said JFS CEO Michael Hopkins. "For over a year, Dreams for Change and JFS have partnered to help families and couples experiencing homelessness have a safe haven in their cars on our campus. This larger partnership further bolsters our overall commitment to homelessness prevention and building a stronger, healthier, more resilient San Diego."
People interested in participating in the Safe Parking Program can contact Dreams for Change by phone, (619) 497-0236, or at their website at dreamsforchange.org.
###