Jewish Family Service Raises $915,000 at Annual Heart & Soul Gala
March 17, 2016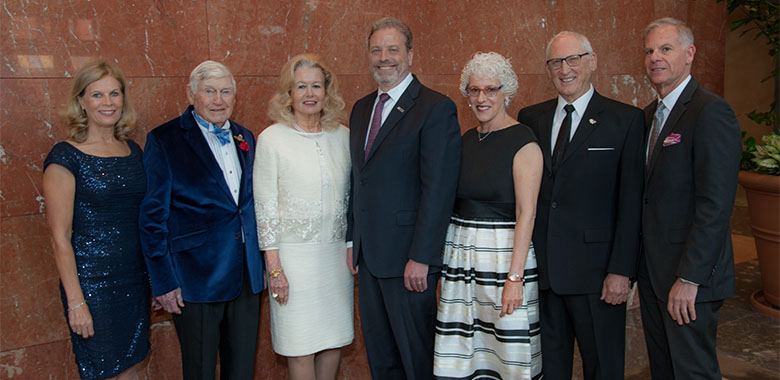 Jewish Family Service of San Diego (JFS) held its annual Heart & Soul Gala at the Hyatt Regency La Jolla at Aventine on Sunday, March 13. More than 525 guests gathered to support JFS, raising $915,000 to continue the agency's efforts of building a stronger, healthier, more resilient San Diego.
During the event, JFS shared its recent success as a community resource for individuals and families in need and celebrated the contributions of its 2016 Mitzvah Honorees:
Claire and David Ellman
From South Africa to San Diego, Claire and David Ellman have demonstrated their commitment to ensuring older adults can lead safe, healthy, independent lives. From more than 25 years, the Ellmans have provided vital support to JFS's University City Older Adult Center, focused on meeting the unique needs of older adults with dementia and their caretakers.
Benjamin Schulman
Benjamin Schulman has been a dedicated and generous investor in JFS for more than 30 years. A decorated naval officer, serial entrepreneur, and self-described optimist, his contributions to JFS include the Ruby Schulman Memorial Golf Tournament, an event named for his beloved late wife, as well as the agency's military outreach program. Through Schulman's investments, JFS has supported thousands of San Diegans working to build better lives.
U.S. Bank
U.S. Bank gives more than $1 million in grants annually to nearly 150 nonprofit organizations in the San Diego area. U.S. Bank and JFS share an interest in doing work that transforms Southern California communities, especially for those who have limited income or who are financially vulnerable. Their shared vision is to empower individuals and families to move toward self-sufficiency, age with dignity, and engage and connect with the broader community. Funding from U.S. Bank supports a number of JFS programs, including the Ways to Work initiative in San Diego County and Roy's Desert Resource Center, a homeless shelter in the Coachella Valley. These programs provide critical support for low- to moderate-income individuals and families, helping lead them to economic independence.
All proceeds from the event benefit JFS's ongoing programs to empower individuals and families, support aging with dignity, and foster community connection and engagement across San Diego.