Jewish Family Service of San Diego Joins Starbucks Food Share Program in Partnership with Feeding San Diego
February 15, 2018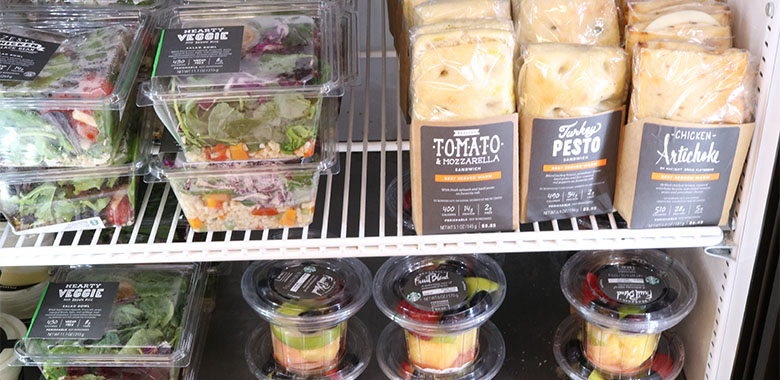 In partnership with Starbucks and Feeding San Diego (FSD), Jewish Family Service of San Diego (JFS) will rescue food products from local Starbucks locations countywide and distribute the food to those struggling with hunger as part of the first Starbucks FoodShare Program in the nation.
A grant from Starbucks and FSD provides JFS with a refrigerated van and subsidized funds to pay two part-time staff drivers. JFS will visit 18 Starbucks locations seven days a week, year round, to rescue food that would otherwise have been thrown away. The food will be distributed at JFS's "Corner Market" at its Joan & Irwin Jacobs Campus in Kearny Mesa – a client-choice food pantry that allows clients to "shop" for complimentary food and hygiene items that best meet their family's needs.
"In San Diego County, more than 460,000 people are food insecure and are uncertain if they will have enough food to meet the needs of their family, typically due to insufficient funds or resources," said JFS CEO Michael Hopkins. "The partnership with Starbucks and Feeding San Diego will help alleviate that insecurity, and provide San Diegans more access to the nutrition they need to live active, healthy lives and thrive."
Food items to be rescued include Starbucks Bistro Boxes, breakfast sandwiches, paninis, salads, yogurts and high-quality baked goods. Approximately 6,000 pounds of food per month are expected to be picked up and distributed by JFS.
"With one in eight San Diegans facing hunger, FoodShare makes a huge difference for those we serve and truly exemplifies what we can accomplish when we work together," said Stacy Rungaitis, director of development and marketing at Feeding San Diego.
JFS is one of three agencies currently participating in the FoodShare Program, including Feeding San Diego and the San Diego Rescue Mission. Five additional San Diego agencies are expected to be added in the future. Together, the eight agencies will rescue nearly 750,000 pounds of food each year from Starbuck locations in San Diego and Imperial Counties.
To learn more about JFS and its nutrition assistance programs, visit www.jfssd.org/food.
About Feeding San Diego
Established in 2007, Feeding San Diego (FSD) is the leading hunger-relief organization in the county, providing 21.2 million meals within the last year, and the only Feeding America affiliate in the region. FSD provides food and resources to a network of more than 225 distribution partners serving 63,000 children, families and seniors each week. Focused on healthy food, education and advocacy, FSD is building hunger-free and healthy San Diego through innovative programs and collaborative partnerships. To learn more about Feeding San Diego and its hunger-relief initiatives, visit www.feedingsandiego.org.
Contact:
Sandy Young / Ashley Weaver
J. Walcher Communications, (619) 295-7140