Jewish Family Service Launches "On the Go: Navigator" Transportation for Seniors Offering Ride-sharing Access and Monitoring for Seniors without Smart Phones
June 14, 2017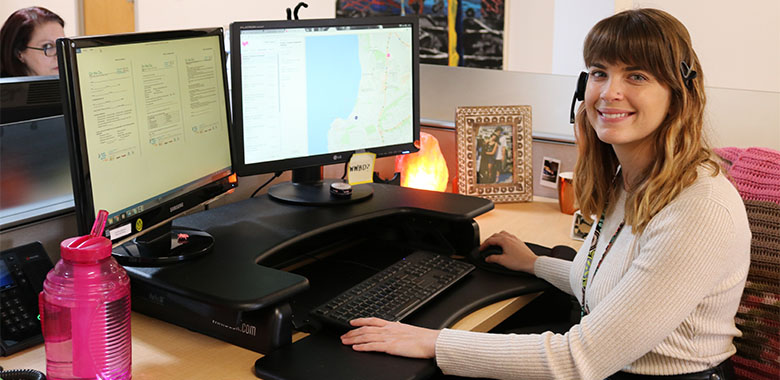 Jewish Family Service of San Diego (JFS) has launched its latest senior transportation service, On the Go: Navigator, which connects older adults with on-demand ride-sharing services like Lyft and Uber without the use of a smart phone, and remotely monitors each ride to ensure safety.
Upon calling to arrange a ride, a receptionist will book the driver through one of the top two ride-sharing services and coordinate door-to-door assistance. Details about the confirmed ride will also be provided, including the driver's name, type of vehicle, license plate number and pick up time. The receptionist will monitor the drive in real-time, making sure everything goes smoothly from pickup to drop off.
"The Navigator program helps bridge the gap between technology and the older adults in our community who do not have the ability to access ride-sharing services themselves," said JFS CEO Michael Hopkins. "These rides are also a more affordable alternative to taxis, and can help provide peace of mind to caregivers, ensuring that their loved ones arrive safely to their desired destination."
Navigator services are available 7 a.m. to 7 p.m., Monday through Friday, for seniors aged 60 or older – regardless of faith or background – who are registered with JFS's On the Go network. Pricing includes the cost of the ride, plus a $4 service fee. Rides must be arranged at least an hour in advance.
On the Go is the largest senior transportation program in San Diego County, with services varying from shuttles to field trips to individualized door-to-door rides from JFS volunteers. The programs provide transportation and access to various activities such as local outings, religious events, shopping centers and healthcare appointments, among many others.
On the Go: Navigator is made possible by partnerships with Lyft, Uber, 2-1-1 San Diego, SANDAG, San Diego County Volunteer Drive Coalition and the Council on Access and Mobility, and funding from the San Diego Foundation's Age Friendly Communities Program.
To learn more, sign up for rides or volunteer, visit www.jfssd.org/onthego or call (858) 637-3210.
Contact:
Sandy Young / Ashley Weaver
J. Walcher Communications, (619) 295-7140