Jewish Family Service Raises $1.1 Million at Annual Heart & Soul Gala
April 10, 2017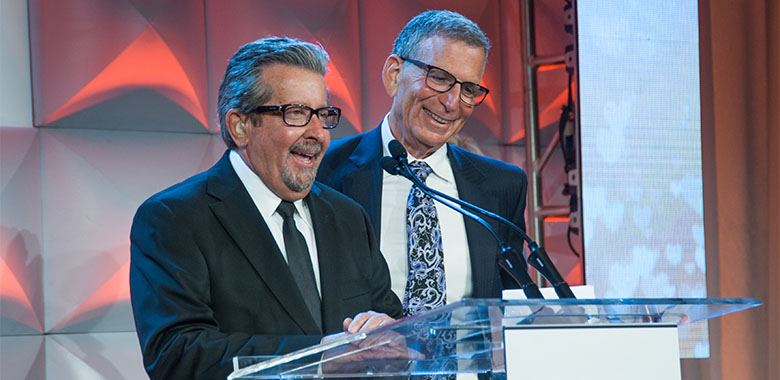 Jewish Family Service of San Diego raised more than $1.1 million at its annual Heart & Soul Gala at the Hyatt Regency La Jolla at Aventine on April 1. Guests participated in a silent auction with more than 100 packages and raised their paddles in a "Fund-A-Mitzvah" that included a $200,000 donation match by Honorary Chairs Ernest & Evelyn Rady.
"We are deeply humbled by the outpouring of generosity from our community, whose investment offers a way forward to thousands of individuals and families who turn to JFS when hope feels out of reach," said JFS CEO Michael Hopkins.
With more than 500 guests, community leaders, and partners in attendance, the event also celebrated the contributions of the 2017 Mitzvah Honorees:
Edward Carnot and Louis Vener for envisioning and leading the effort to significantly expand JFS's Kearny Mesa headquarters into a community campus that positions the agency to meet the future needs of the community.
Barbara and Mathew Loonin for their support of JFS's nutrition services, including the creation of a state-of-the-art Loonin Family Kitchen that produces more than 84,000 healthy, kosher, hot meals for older adults each year.
National Charity League – San Dieguito Chapter for the hundreds of hours its members have dedicated volunteering in the JFS Hand Up Youth Food Pantry, enabling JFS to provide more than 258,000 bags of food annually to people in need throughout the community.
Organized by Gala Chairs Loretta H. Adams, Kira Finkenberg, and Danielle Sicklick, the "Ignite the Moment" themed evening included dinner, dancing and a celebration of JFS's success building a stronger, healthier, more resilient San Diego over the last 99 years.
More than 95 underwriters generously supported the event, including Charitable Adult Rides & Services, Inc. (CARS) and a longtime anonymous JFS donor as Presenting Underwriters. Dinner Underwriters included Joan and Irwin Jacobs, Marie G. Raftery and Dr. Robert A. Rubenstein, and U.S. Bank. Heart of the Family underwriters included Barbara Barsky; Jamie, Bryce, and Tyler Carr; Pamela and Edward Carnot; Cohn Family Foundation; Lisa and Gary Levine; Arthur J. Gallagher & Co; Barbara and Mathew Loonin; Sarah z"l and Nessim Tiano; UC San Diego; Erna z"l and Andrew Viterbi.
All proceeds from the event will benefit JFS's ongoing programs to empower individuals and families, support aging with dignity, and foster community connection and engagement across San Diego.
Contact:
Sandy Young / Ashley Weaver
J. Walcher Communications, (619) 295-7140[/vc_column_text][/vc_column][/vc_row]