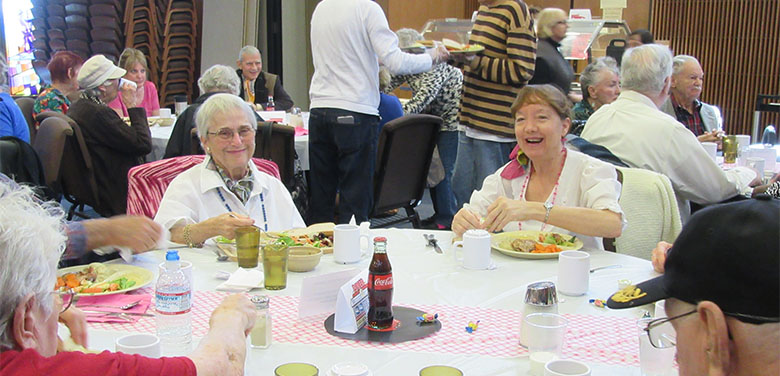 Hundreds of seniors who visit the College Avenue Center for hot meals, daily exercise classes, cultural programs, and more will now have a new site to visit with bright, airy rooms and collaborative opportunities at Temple Emanu-El come September 1, 2017.
Operated by Jewish Family Service and open to all San Diego seniors, the popular Social & Wellness Center is just a short 1.5 miles away from the College Avenue Center's current location. The new site is conveniently accessible by the On the Go Shuttle and MTS bus.
Open Monday through Friday, 9:00am to 3:00pm, College Avenue Center is best known for its hot kosher lunch, and soup and salad bar. Favorite offerings include weekly movie screenings, meditation and yoga classes, and live entertainment, including singing, music, and dance. The center also offers daily exercise classes, arts and crafts, games of bingo and mah jongg, and cultural programs.
"We look forward to welcoming our longtime members and new participants alike to the College Avenue Center's new home, just north of the 8," said JFS CEO Michael Hopkins. "Working with Temple Emanu-El is part of Jewish Family Service's ongoing goal of making new community partnerships and connections with increased synergy and services for our clients."
Temple Emanu-El is a contemporary synagogue with modern architecture and amenities. The synagogue is also well known for its warm and diverse community, increasing College Avenue Center participants' opportunities for new friends and socializing.
"We're delighted to build this partnership with Jewish Family Service to serve the needs of our community," said Rabbi Devorah Marcus. "Everyone at Temple Emanu-El is looking forward to creating new programming that allows us all to participate in engaging, fun, and intergenerational activities as an extended family."
College Avenue Center offers three levels of membership: Free Basic Enrollment for center access (fees may apply for certain activities); Community Membership for $48 per year, just 18 cents per day, with free Monday Movies and joint membership at the North County Inland Center in Poway; and VIP Membership for $80, with preferred seating at in-house special events and waived On the Go enrollment fees. Discounted couple memberships are also available. The lunch program has a $4 suggested donation for those 60-plus, and $7 for all others.
Part of Jewish Family Service's On the Go: Transportation Solutions for Older Adults, the On the Go shuttle provides roundtrip transportation for nutrition participants around the College Avenue Center for a small $4 suggested donation each way. Call (858) 637-3275 for more information and current availability.
Temple Emanu-El is located at 6299 Capri Drive, San Diego, CA 92120. For more information on the College Avenue Center, visit www.jfssd.org/cac or call (858) 637-3270.
Contact:
Sandy Young / Ashley Weaver
J. Walcher Communications, (619) 295-7140