10 Volunteer Opportunities at JFS You Didn't Know About
June 3, 2019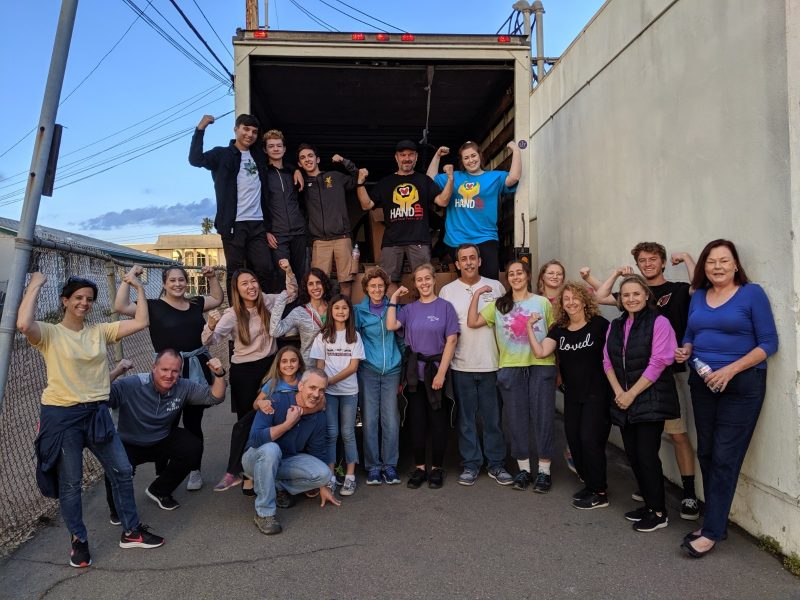 Volunteers are the heart of Jewish Family Service. Every day, they help us transform the lives of San Diegans and build a stronger community where everyone can thrive. No matter where your interests may lie, the diversity of our programs ensures there's a volunteer opportunity that'll get you excited to give back. Don't believe us? Take a look at a few of the awesome positions we have open right now.
Knitting Class Instructor
Break out the yarn! Our College Avenue Older Adult Center needs a knitting instructor who knows their way around a pair of oversized needles. If you're a master at creating scarves for your cousins or baby hats for your grandkids, we could use your talents. As the class instructor, you'll guide participants through each project with the end goal of donating the finished products to a worthy organization. Come help us get our craft on!
Corner Market Volunteer
There's nothing quite like our Corner Market. This unique space is part of our Hand-Up Food Pantry, and provides families experiencing food insecurity with plenty of choices as they "shop" through the market. As a volunteer, you would help with the point-based shopping system, offer information on healthy choices, and assist them through the check-out process. Come see for yourself how a shopping trip to our Corner Market can make a big difference.
Out & About Chaperone
It's time to get out and explore San Diego! Come join us as a chaperone for the Out & About program, a key component of our Alzheimer's Disease Initiative. Every Friday, older adults with early-stage Alzheimer's and related forms of dementia take an excursion to a fun and unique part of America's Finest City. Museums, animal sanctuaries, and film festivals have all been on tap in the past. Get to know our amazing clients as you help them through the day – plus we always stop for a delicious lunch together!
Cyber Café Teacher
Do you consider yourself a tech wizard? We need your genius to help run our computer lab at the College Avenue Older Adult Center! This class provides hands-on help for older adults who want to learn more about computers, tablets, and smartphones. You can present a lecture, provide a demonstration, and answer questions from curious minds. Help our community stay connected to each other in cyberspace!
Bikkur Holim Friendly Visitor
For homebound older adults, loneliness can be a major factor in deteriorating mental and physical health. You can brighten someone's day and bring friendship into homes across San Diego! As a Bikkur Holim Friendly Visitor, you'll visit with isolated seniors and keep them connected to the community every week. Bake together, watch a movie together, scrapbook together—whatever it is you're both passionate about, this is a volunteer position that makes people's days.
Food Rescue Driver
Want to reduce food waste and feed families in need at the same time? We've got the perfect opportunity for you. Our Hand Up Food Pantry relies on surplus food donations from several local food chains, including Starbucks and Target. Our drivers pick up these donations and bring them back to stock the shelves of our Corner Market. For many San Diegans experiencing food insecurity, these meals are vital to keep their families healthy. Your help would make a huge difference!
Positive Parenting Group Facilitator
Raising kids is no easy task – that's why we could use your expertise in our Positive Parenting Program. This community outreach group teaches parents who are struggling with their children's behavior how to build happy, healthy relationships. You'll be able to use your own life experiences to connect with parents and guide families toward a greater sense of harmony. As we like to say at JFS, we're moving forward together.
Music & Memory Volunteer
Everyone loves a good toe-tapping song, but did you know music can help ease the effects of Alzheimer's? Our Music & Memory program is an in-home therapy program that uses personalized playlists to reduce anxiety and negative behavioral symptoms in older adults with Alzheimer's. Familiar tunes can unlock parts of the brain that are usually suppressed by this debilitating disease, and many Alzheimer's patients see significant improvements after joining the program. As a volunteer, you will show caregivers how to administer the program at home and check in to see how our clients are doing – and maybe get in a few dance moves as well!
Men's Group Counselor
Have a background in social work or counseling? We need you to lead a men's group at our College Avenue Older Adult Center! Help us create a safe space for older men to share their feelings, offer support, and build a community of healthy friendships. Social connections are extremely important to maintain as we age, and your friendly facilitation will keep our clients connected to a vibrant community.
JFS Migrant Family Shelter Volunteer
As asylum-seeking families flee violence and persecution in their home countries, the JFS Migrant Family Shelter offers a place of refuge once they've been admitted into the United States. While their journey is far from over, our shelter offers critical humanitarian services as migrants continue through the asylum process. We're always looking for compassionate volunteers to serve snacks and meals, sort clothing donations, assist with travel arrangements, and keep our facilities clean as we "welcome the stranger."
So, are you inspired yet? JFS is a home for the whole community. Come change lives with us today!