Caring for Our Community During COVID-19: The JFS Program That's Expanded Home-Delivered Meals for Older Adults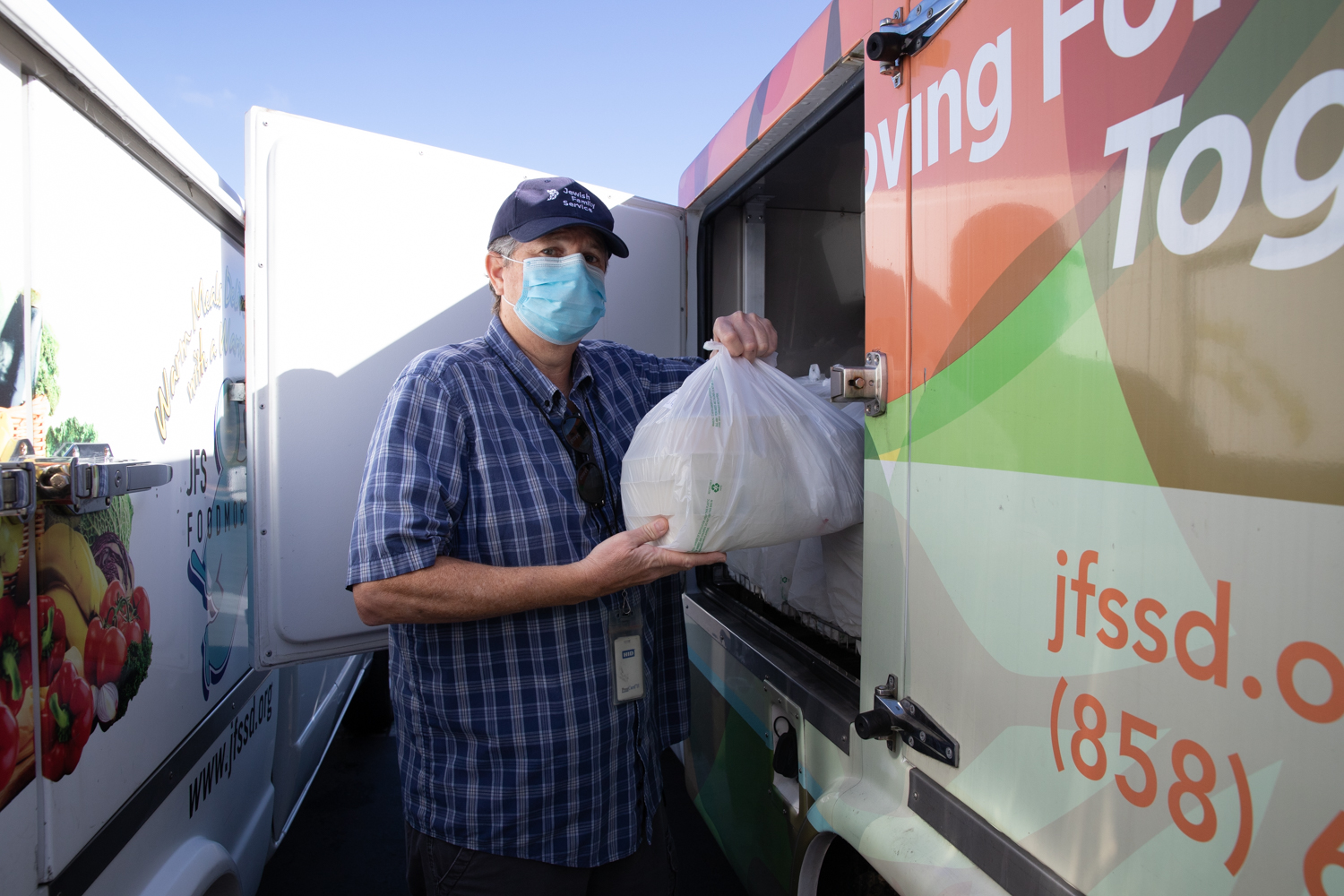 As San Diego starts to reopen, COVID-19 remains a serious health risk for seniors. Many are still sheltering in place out of necessity while supportive services, such as congregate meals at senior centers, are still largely shut down. Loved ones who had acted as caregivers during the past few months are going back to work, increasing the potential for social isolation. So while the city slowly comes back to life, most seniors are stuck at home waiting for the green light – which makes it incredibly difficult to access fresh and nutritious food.
At JFS, we believe that our 102 years of experience serving the community has built a strong reflexive muscle that allows us to respond quickly and compassionately to emergencies. Many new services have been born from community-wide crises, such as the JFS Migrant Family Shelter, and our current public health crisis is no different. To respond to the drastic increase in older adults who needed meals during the pandemic, we created Project 19.
Thanks to a contract with the County of San Diego Aging and Independent Services, we're able to provide 30,000 meals a week to seniors sheltering at home. It operates similarly to our Foodmobile program, but with one major difference: location doesn't affect whether you can receive meals. Through Project 19, we're able to serve zipcodes that we normally cannot and ensure that older adults – regardless of their neighborhood or income — have access to healthy, home-delivered meals.
Every day, we deliver food packages to nearly 350 older adults that include 21 freshly cooked and shelf-stable meals for the upcoming week. These bulk deliveries limit our in-person contact with clients and reduce the risk of spreading the virus.
At the onset of COVID-19, staff from across JFS were redeployed from programs that had been modified due to physical distancing regulations. Project 19 is comprised almost entirely of redeployed staff who are doing vastly different jobs than they were originally hired to do. Their incredible flexibility, compassion, and hard work has helped thousands of seniors find comfort in knowing where their next meal will come from. Take a look below at the experiences of some folks who are working on the frontlines.
Kjersten Langill
"Before COVID-19, I was a Transportation Coordinator for On The Go. And while that's still my official title, my role has morphed into doing a little bit of everything. I pack boxes of frozen meals to be delivered, route volunteer drivers to their destinations, answer client phone calls, organize donations in our food pantry… I do pretty much anything that needs to get done! Through Project 19, we're enabling people to continue their daily lives safely, with security, and with some sense of normalcy. We're sustaining them while normal life is on pause and giving them the ability to successfully move forward once this is all over. My job is often emotional and rewarding, especially when I receive moving thank you calls from clients."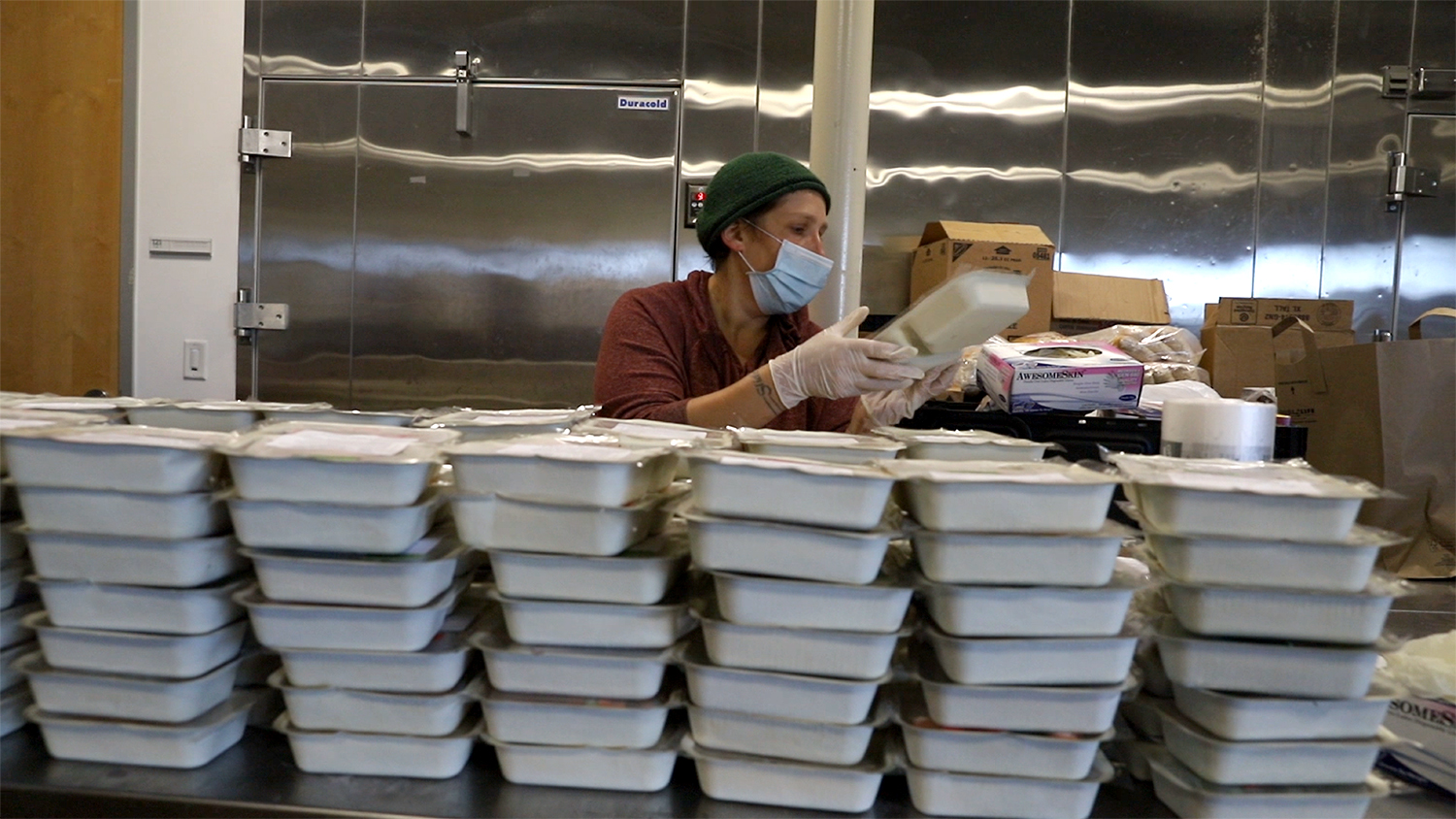 Kjersten sorting frozen Foodmobile meals in our Hand Up Food Pantry warehouse.
Katrina Bruins
"For the last month and a half, I have had the great opportunity of coordinating volunteers for our Project 19 program. What started as a grassroots, pull-up-your-boot-straps-and-run project has morphed into a fully-functioning program servicing nearly 350 clients per day. About a month into the program, we partnered with Team Rubicon, a nationally-recognized volunteer base, for emergency-response volunteer support. Each day, 10-15 volunteers from Team Rubicon arrive at our campus to make deliveries, help out in the warehouse, unload boxes, and assist with anything else that we need to feed our community. They have provided the manpower necessary to keep this program sustainable, some of them putting in close to 40 hours per week. Their dedication to this work has proved once again that volunteers are the heart of JFS."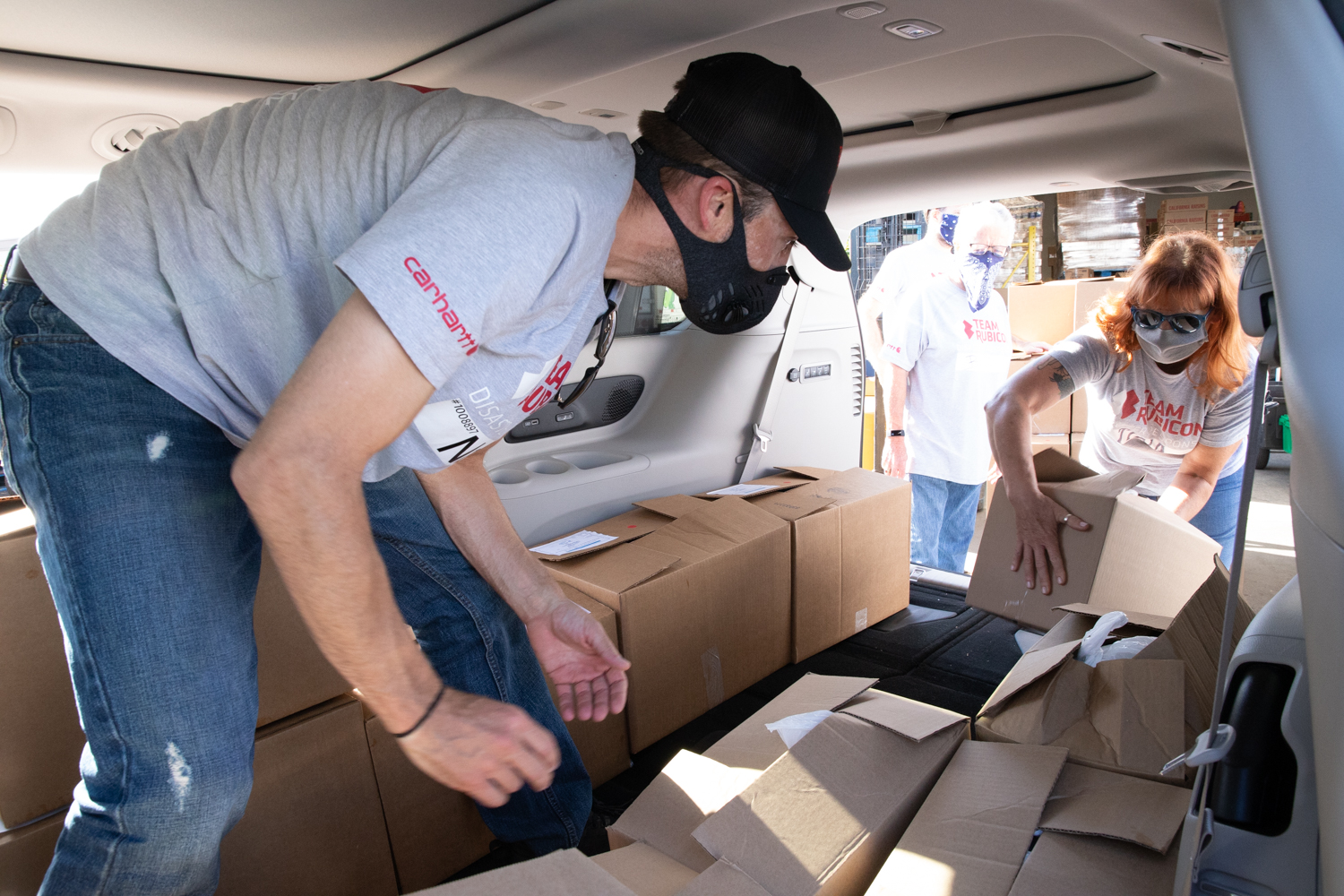 Members of Team Rubicon preparing for a day of delivering meal packages.
Bret Caslavka
"As a Social and Wellness Coordinator for the College Avenue Older Adult Center, COVID-19 completed halted my daily work when we had to close the Center. Since JFS has expanded our distribution footprint through Project 19, I now assist with preparing boxes for daily food deliveries, organizing the next day's distribution, and delivering frozen meals prepared in the JFS Loonin Family Kitchen to Senior Centers in Oceanside, Poway, and North Park. Before I was hired, I knew JFS did incredible community work, but I had no idea the depth to which they provide these services until I became more involved.  This unprecedented emergency has forced everyone to modify their roles and take on new tasks.  I'm fortunate and grateful to be part of an incredible group of people who really define the word "teamwork."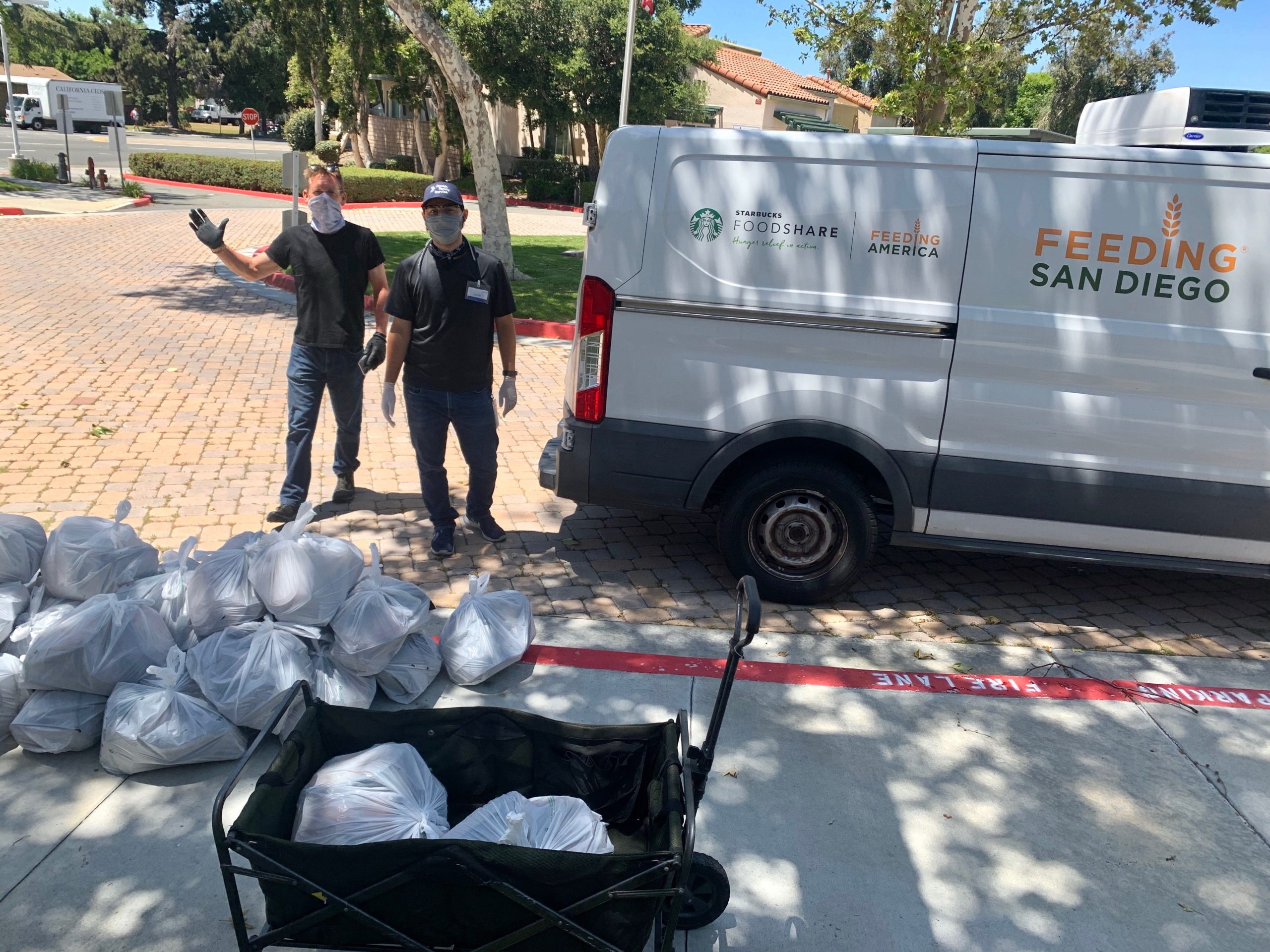 Bret and teammate delivering meal packages to older adults.
Nothing makes the impact of Project 19 more clear than the gratitude of a client. Manuela lives alone in a granny flat behind her son and daughter-in-law's house. Normally she shops for her own groceries, but the pandemic has made it hard for her to go to the store while her family continues to work or go to school. With Project 19, she doesn't have to worry anymore.
"It's been wonderful for me. I love the meals they bring. I would really like to meet them, everyone who helps bring me this food. I say, this comes from my family. I consider them my family. On my birthday they sent me a beautiful card and a cake. I loved it. I'm so grateful to have this community."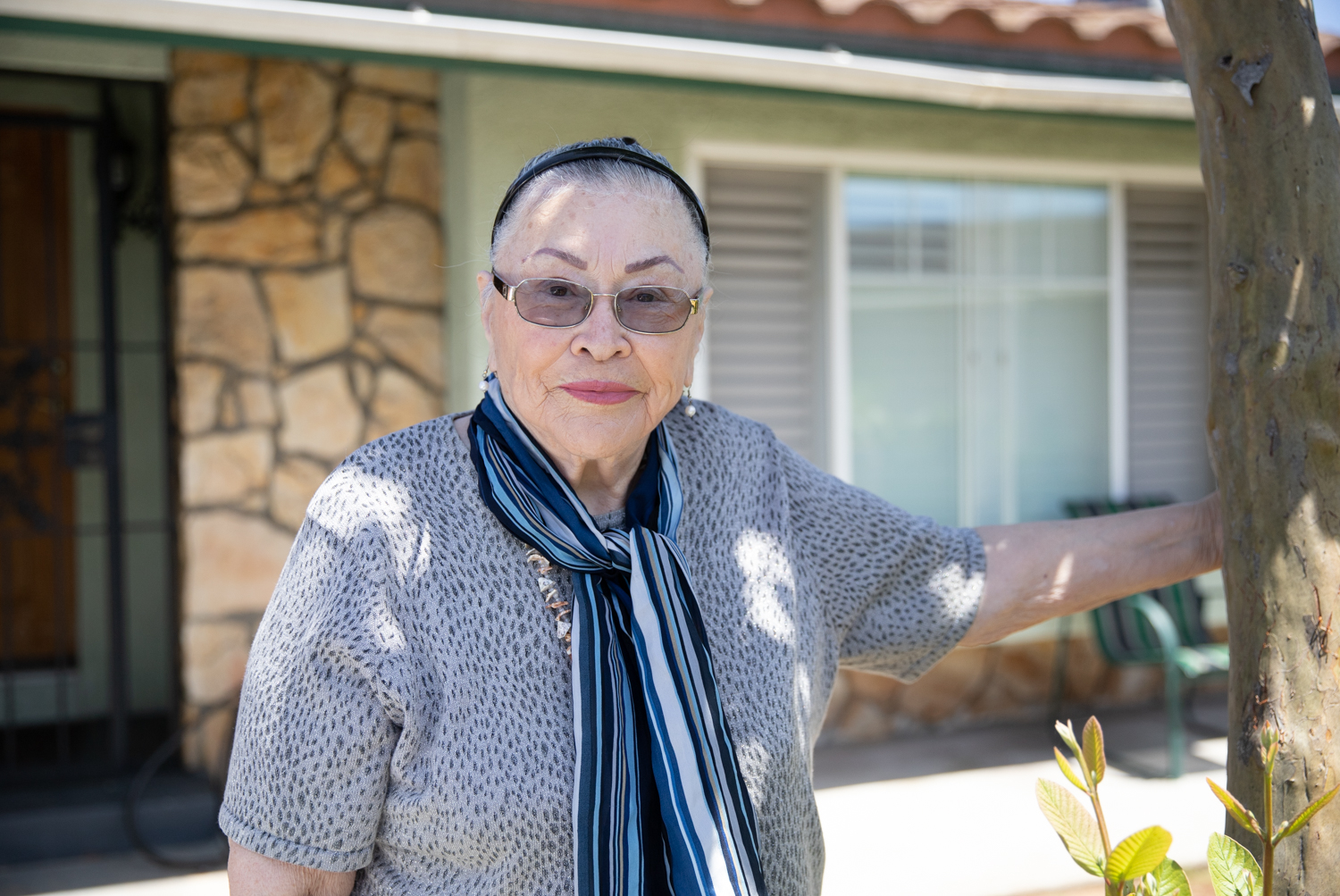 Manuela outside her home.
Want to get involved? We need more volunteers to deliver meals!
Our incredible partnership with the volunteers from Team Rubicon is coming to its scheduled end now, and we need 15 volunteers every day to load up their cars and deliver meal packages for Project 19 clients. Each shift is approximately four hours and averages 16 stops – which means you get to have 16 incredible moments helping a neighbor in need. Together, we can make sure older adults in our community stay healthy and safe during these difficult times. Click here to sign up for a shift!