SDSU Student Organizes Self-Defense Class for Refugee Women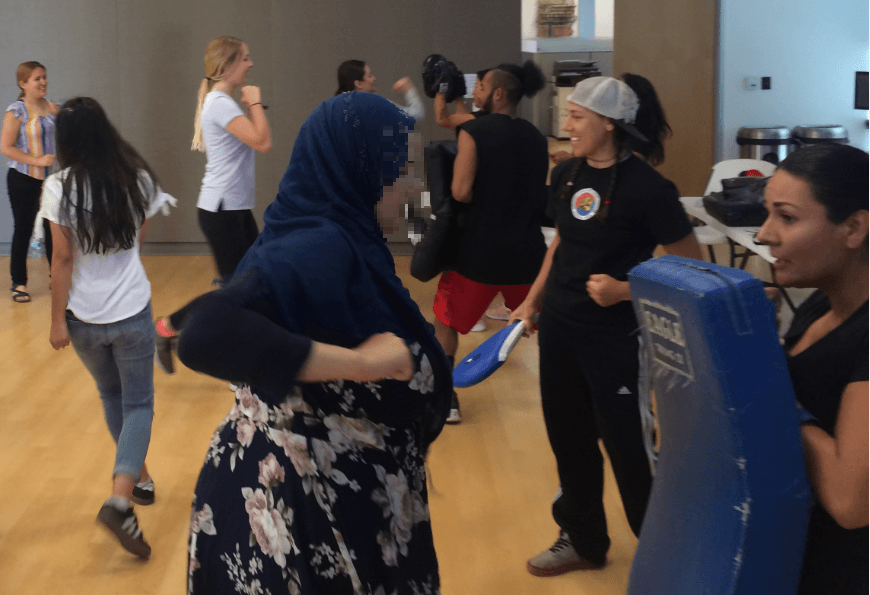 In 1918, JFS was founded to provide humanitarian services to Jewish refugees after World War I. More than 100 years later, welcoming the stranger remains at the heart of our agency.
These days, we assist refugees with diverse backgrounds and nationalities – including people from Iran, Afghanistan, Colombia, Syria, and Myanmar. Our Jewish values speak much more to why we serve than to who we serve.
As more families become a part of the San Diego community, our Refugee Resettlement Program partners with local students who are interested in getting involved with the refugee population.
Megan Quirk, an International Security and Conflict Resolution student at San Diego State University, volunteered with our Refugee Resettlement team to help new families get accustomed to American culture. After helping people from around the world, she wanted to do more. Driven by her passion for increasing women's access to education, she hosted a self-defense class for Afghan refugee women.
"The main goal of this event was to help create a community where refugee women can feel safe and build connections," Megan said. "With refugee women at a high risk for hate crimes and domestic violence, I thought this class could offer them valuable skills to use if they are ever in the situation where they need to defend themselves."
The workshop incorporated self-defense tactics for women who wear religious clothes, such as burqas and headscarves, which can sometimes restrict their full range of movement. 
"While it was a scary topic, the class had a fun atmosphere," Megan told us. "All the women were laughing and smiling while testing out their new moves. I was reminded of the strength and resilience of these women, having overcome so many barriers just to be present at this workshop. I'm so grateful to be able to contribute a small piece to their survival skills."
Megan says hosting the self-defense class and her time volunteering with JFS staff has cemented her passion for working with refugees.
"Being able to see the ins and outs of the resettlement process has taught me much more than I could've learned in a classroom," she explained. "I got to see the challenges that refugees face when they get here, along with how case managers help them navigate their new home."
After graduating college, Megan hopes to join the Peace Corps and pursue a career in advancing women's education around the globe.
Want to volunteer with our Refugee Resettlement Program? Please visit: https://www.jfssd.org/volunteer/support-refugee-immigrant-families/