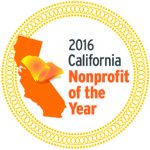 June 14, 2016
California State Senator Marty Block has named Jewish Family Service of San Diego (JFS) "Nonprofit of the Year" for the 39th district, and will honor the agency at the first inaugural California Nonprofits Day on Wednesday, June 22, 2016 in Sacramento at the State Capitol.
"Nonprofit organizations are vitally important to the economy and well-being of California. But too often nonprofits are 'hidden in plain sight.' We are thrilled that the State Assembly has passed a resolution putting the spotlight on nonprofits as an economic power that uses that power for the common good. We congratulate all of the award recipients on being honored for the great work they do every day to make California a better place," said Jan Masaoka, CEO of California Association of Nonprofits (CalNonprofits), a statewide alliance of over 10,000 organizations, representing and promoting California's growing nonprofit sector and working to bring the full power of nonprofits to strengthening communities.
Being recognized for its leadership and service, JFS offers integrated programs and services for individuals and families working to build better lives. Some of the ways the agency has helped the community include:
Serving more than 300,000 meals to members of the military, refugees, older adults, low-income and homeless individuals and families across San Diego.
Running the largest senior transportation program in San Diego County, providing 250,000-plus rides to date through its "On the Go" program.
Serving as one of four refugee resettlement agencies in San Diego, providing comprehensive reception and placement services to more than 3,000 refugees over the past 10 years.
Operating San Diego County's only breast cancer case management program with bilingual, in-home visits.
Providing award-winning, evidenced-based parenting education in Head Start preschools and community sites across San Diego, reaching more than 5,000 families and 10,000 children since the program's inception.
"It is a tremendous honor to receive this recognition from Senator Block and the State Assembly on California Nonprofits Day." said Michael Hopkins, JFS CEO. "Families come to JFS looking for a way to move forward. We are proud to be a part of a strong nonprofit network in San Diego working to make a meaningful, measurable, and sustainable difference in the lives of our clients and the community we all share."
JFS is among the less than 2 percent of nonprofits nationwide to have earned Charity Navigator's highest 4-star rating for an eighth consecutive year. In the last year, the agency was also awarded the prestigious Service Enterprise certification by the Points of Light Institute, recognizing JFS's commitment to engaging volunteer talent, and its Patient Advocacy Program was named San Diego County's "Behavioral Health Service's Program of the Year."
Contact:
Sandy Young / Ashley Weaver
J. Walcher Communications, (619) 295-7140