Jimbo's Supports Jewish Family Service's Hand Up Food Pantry with a $8,542.80 Donation from Paper Bag Funds
May 5, 2020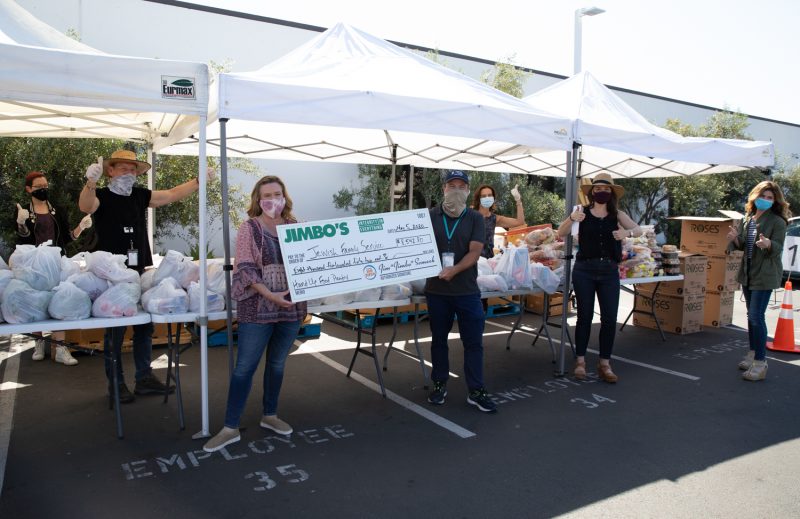 FOR IMMEDIATE RELEASE
MEDIA CONTACT:
Jennifer Borba von Stauffenberg
Olive Creative Strategies
619.955.5285
[email protected]
WHAT:
Following the passing of Proposition 67 in 2016, Jimbo's is required by California State law to impose a charge of 10 cents on each paper bag they provide to customers. As a result of COVID-19, reusable bags are prohibited for the safety of staff members and customers. Effective April 25, the fee for bags has been lifted for the next 60-days. Since, the majority of Jimbo's customers use reusable bags, the funds collected during April 6-24 are much higher than usual for that time period.
Jimbo's is donating all 10 cent paper bag fees collected April 6-24 to the Jewish Family Service's Hand Up Food Pantry. They will be able to use these much needed funds to support the many San Diegans who rely on their food pantry every week, especially during this time.
WHEN:  Tuesday, May 5, 2020 at 9:30am
WHERE:  Jewish Family Service, 8804 Balboa Avenue, San Diego 92123
About Jimbo's
Jimbo's was founded by Jim "Jimbo" Someck in 1984 with the vision to have a piece of organic fruit in every child's recyclable lunch bag. Jimbo's supplies the highest quality organic and natural foods available, while following a strict list of 26 guidelines, including no white sugar, no harmful chemicals or preservatives, and organic ingredients whenever possible. Today, Jimbo's is San Diego's trusted go-to source for the purest products—carrying organic, non-GMO and locally sourced foods that nourish its customers. For over 35 years, Jimbo's has proudly supported local organic farms and businesses, highlighting San Diego brands on the shelves in stores through its "Support San Diego" signage. The Jimbo's team is committed to sourcing new and exciting local and artisan products, differentiating Jimbo's from its competitors. Jimbo's is committed to the community, children and the environment—is actively involved in schools, promoting environmental groups and practices, contributing to charities and spreading the power of nourishing ingredients to its customers.
For more information on Jimbo's, visit www.jimbos.com or follow Jimbo's social media channels @JimbosNaturally on Instagram, Twitter and Facebook.