Our Impact On The Frontlines.
Beginning March 16, 2020, we drastically modified our services and programs to meet the urgent needs of our community during the COVID-19 pandemic. Right now, thousands of our neighbors are struggling to feed their families, pay their bills after job loss, and stay healthy. JFS is on the frontlines every day providing critical meals, financial assistance, and community resources to those who need it the most. Our work is only possible because of generous supporters, volunteers, and community advocates who empower us to quickly and compassionately support San Diegans during this unprecedented emergency. Thank you!
Our COVID-19 Response At-a-Glance
Requests for our services have greatly increased since the onset of COVID-19 and we are continually analyzing program data, listening to client concerns, and using informed intuition to modify, expand, or contract services as needed.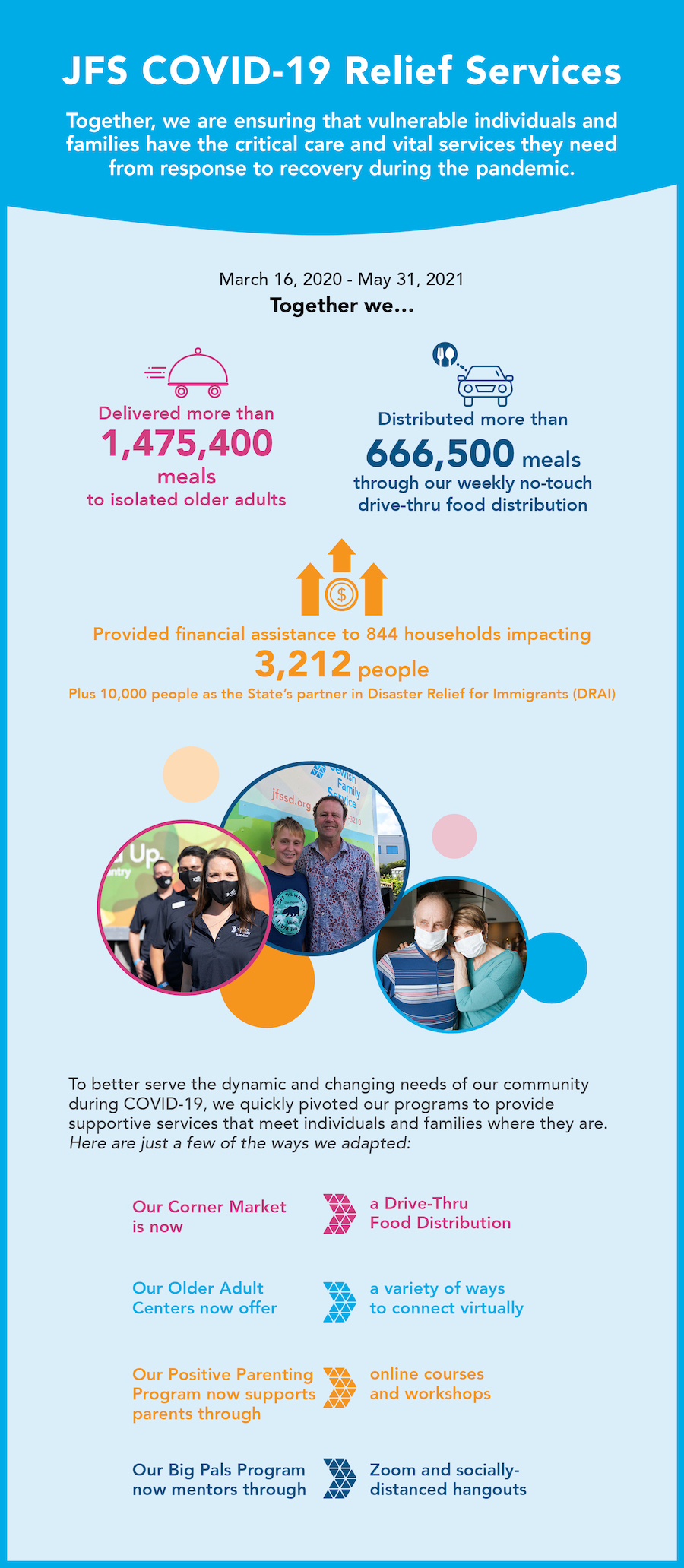 From Response To Recovery:
How JFS Provides Vital Assistance and Emotional Support
Help & Hope During the COVID-19 Crisis
In April 2020, we created this video to give our community an inside look at the work we are doing on the frontlines.
JFS COVID-19 Relief Fund
For more than 100 years, Jewish Family Service has been on the frontlines when our community is facing a crisis. In mid-March we launched the COVID-19 Relief Fund to help ensure that our general operations and critical emergency services provide a holistic response to our neighbors who need relief and vital necessities.
The JFS COVID-19 Relief Fund is needed now, more than ever, as unprecedented amounts of people are unemployed, facing evictions, taking care of older loved ones, and struggling with reduced income. If you are able to support our efforts, please donate to our COVID-19 Relief Fund.
Donate Non-Perishable Food & Hygiene Items
Support San Diegans in critical need who are accessing our no-touch drive-thru food distribution service! Donation drop off hours are from 2:00pm to 4:00pm Monday-Friday at our Joan & Irwin Jacobs campus (8804 Balboa Ave).
High need items: Peanut butter, canned tuna/chicken, canned beans, canned fruit, canned vegetables, granola bars/snacks, mac & cheese cups, cup of soup/ramen, shelf stable milk, kosher items
Hygiene items: Hand sanitizer, wipes & tissues, deodorant (full-size), body wash (full-size), shampoo and conditioner (full size)
In-Kind Donations
For all other donations, we respectfully request that it be delivered to JFS with prior notice. Please contact [email protected] or (858) 637-3242 for information about our in-kind donation needs and drop-off locations and times.
Back-To-School Backpack Drive
During the COVID-19 pandemic, teachers, parents, and kids are struggling to prepare for what will be an uncertain and unpredictable school year. Many families are facing financial challenges and young students will be in stressful learning environments. With your help, we can provide 200 kids with essential school supplies during these challenging times and set them up for a successful school year. You can either Sponsor A Student or Build a Back-to-School Kit by clicking here.
Provide Meals for Safe Parking Program Participants
JFS operates four Safe Parking Program lots in our community for individuals and families living out of their vehicles, many of whom are experiencing homelessness for the first time. You can drop off individually-packaged meals for 60+ people at our Joan & Irwin Jacobs Campus (8804 Balboa Ave). Schedule the night of your choice by clicking this link.